Women to protest lack of justice in Model Town tragedy on Jan. 17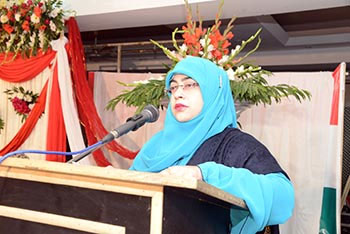 Ms. Razia Naveed, President of PAT Women Wing, has said that a protest demonstration will be held to express love and devotion towards the youth, women and children who were martyred in a brutal act of state terrorism on June 17 last year. The demonstration is being organized under the banner of Pakistan Awami Tehreek to protest lack of justice in the Model Town case despite passage of seven months. She said that thousands of women will join men to demand justice for the martyrs. She said that they will be holding banners and placards for the purpose, adding that a large number of children will also take part in this demonstration in addition to women.
Ms. Razia Naveed made these remarks while addressing a consultative meeting of PAT Women Wing in the central secretariat. Gulshan Irshad, Afnan Baber, Qurat-ul-Ain Zahoor, Nabeela Yousaf, and Atiya were present on the occasion. She said that the rulers have given a message to the people by indulging in gruesome killings that they give a damn to the constitutional rights of the people and have the audacity of acting the way they please without any fear of law. She said that the whole nation will have to wage a struggle for their rights. She said that the living nations hold their martyrs in high esteem and never forget their sacrifices. She said that a message will be put across on January 17 that women of this country are standing by their martyrs and will not get back even inch from their demand of seeking justice for them.
Ms. Razia Naveed said that JIT constituted by the government unilaterally is a joke with law, justice and sacred blood of martyrs. She pledged that neither will there be any betrayal of blood of martyrs nor will revolution be postponed. She said that it is through revolution that destiny of people can be changed for the better. She said that JIT established to probe the Model Town incident is based on ill-intention and fraud, adding that PAT rejects such JIT unilaterally. She asked how accused police could become a complainant in the matter. She said that justice is being killed by collection of false evidence and questionable proofs. She said that unless the Chief Minister Punjab, who ordered the police action of June 17, resigns from his position, there is no way the ends of justice can be met nor can a fair and impartial investigation is possible.
The President of PAT Women Wing said that January 17 marks the passage of seven months since the heart-rending Model Town tragedy took place. She said that we pledge with our martyred brothers and sisters that we would not leave this struggle for justice whatever be the conditions and their blood will not be allowed to go in vain. She said that revenge of their martyrdoms will be taken in the form of revolution. She said that PAT proved through its relentless struggle that the powers that be cannot make it waver in its resolve to demand justice and rights of the masses. She said that the martyrs have lifted our heads with pride.
Ms. Razia Naveed said that if the Model Town victims did not get justice, the demonstrations starting from January 17 will expand into countrywide movement. She said that people of Pakistan are the sole source of support to Dr Tahir-ul-Qadri and it is for their rights that he is waging a struggle. She said that roads of the country will be witness to massive showing of people on January 17 demanding justice for the Model Town martyrs.