Minhaj Education Society holds teacher training workshop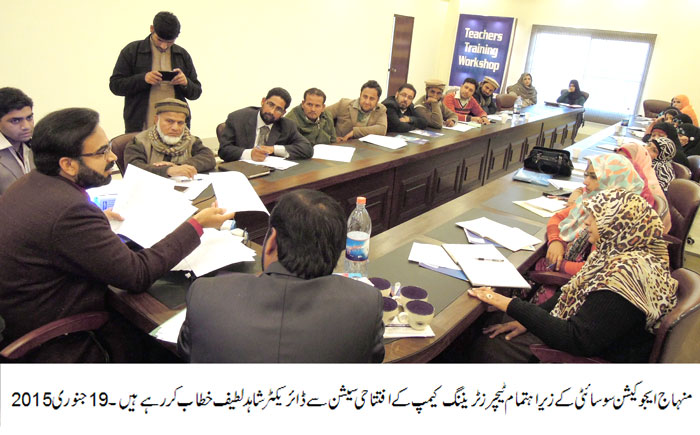 Teachers training workshop was held in Minhaj Educational Complex Township under the banner of Minhaj Education Society the other day. The workshop was attended by more than 50 teachers from across the country.
Addressing the inaugural session of the workshop, Shahid Latif, Director of Minhaj Education Society, said that service of humanity including its education and training was the mission of the Prophets. He said that Allah Almighty sent Prophets in the world to guide people and spread His mercy and blessings among them. He asked the students to play their role actively with full confidence in dissemination of knowledge to the students. He said that society can improve and progress only when education is promoted at a mass scale and provided at affordable rates. He said that the future of the nation hinges on the students and youth. He said that it is the government's responsibility to provide security to the students and educational institutions in which they have completely failed. He said that after the Peshawar tragedy, the teachers and students suffer from fear.
Shahid Latif said that the role being played by Minhaj Education Society for promotion of education in society is a great Jihad in the modern times. He said that if the teachers pay their undivided attention to imparting knowledge and building character of their students, it can have positive impact on the society. He said that revision and amendment in curriculum of educational institutions including religious seminaries is need of the hour to stem the rising tendency of extremism and radicalism in society. He said that there is a need to focus on teacher training and capacity building to enable them to deliver their responsibility efficiently. He said that unbundling of modern and ancient education was a grand conspiracy which has hit the Muslims adversary.
Shahid Latif said that Dr Tahir-ul-Qadri has carried out correct diagnosis of the malaise afflicting the Muslim world over and in his diagnosis, he has listed ignorance as topmost problem hindering our march towards progress and prosperity. He said that poverty, inequality, destitution, unemployment and price hike is the result of ignorance. He said that conservatism, extremism and sectarianism are some of the signs of ignorance.
The Director of Minhaj Education Society said that the teachers are builder of the nation and they should be role model for their students. He said that teachers have an important role to play in character building of students. He said that MES is busy realizing dream of Dr Tahir-ul-Qadri wherein he had stated that he would give 100 Ali Garhs to the people. He said that only that teacher can change society who is financially prosperous, adding that making economic life easy for teachers should be among top responsibilities of the government. A special Dua was made for the martyred teachers and students of Army Public School in the meeting. Sajid Hussain, Saifullah Bhatti, Ali Waqar, Amir Abbas, Ateeq-ur-Rehman, Farooq Ahmad and others were present on the occasion.