PAT a greater political & organizational power after end of sit-in: Spokesperson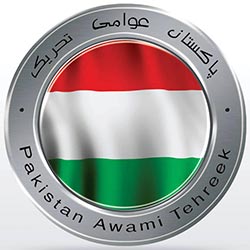 A spokesperson of Pakistan Awami Tehreek (PAT) has said that popularity of the party has increased massively as a result of revolution march and sit-in. He said that a large number of Pakistanis have got membership of the party both from inside and outside the country. He said that reorganization process of the party continues at the district level. He said that PAT chief Dr Tahir-ul-Qadri addressed three workers' conventions in the US after the conclusion of the sit-in, adding that reorganization of the party has been completed in thirty countries of the world including US, UK, and Europe and the process continues in other countries. He said that PAT is the largest political party of the overseas Pakistanis at the moment as well.
The PAT spokesperson reminded that following formal end of the sit-in, big public meetings were held in Lahore, Faisalabad, Bakhar, and Abbotabad in which hundreds of thousands of people participated and supported agenda of change. He said that the protest demonstrations have temporarily been stopped due to illness of Dr Qadri, adding that public meetings will resume after return of the PAT chief. He rejected the notion that the morale of PAT workers has fallen. He said that the ratio of students' admission in Minhaj University and other educational institutions has increased considerably, adding that the overall number of students studying in these institutions has hit one lac and 26 thousand mark, 6000 more than the number of previous years. He said that 40% of students are getting education for free in these educational institutions.
The spokesperson made it clear that the number of faculties in Minhaj University, which was 6 last year, has increased to 9 this year, which shows that the students and their parents place enormous faith in the University. He said that the Punjab government martyred innocent people including students. He said that the government tried to shut down the educational institutions by perpetrating worst violence on the students but it failed miserably in achieving this heinous objective.
The spokesperson further stated that political activities of PAT continue with zeal and zest throughout the country. He said that after the end of sit-in, it was PAT which held countrywide rallies against terrorism in 60 cities in which thousands of workers participated with full vigour. In addition to this, protest demonstrations have recently been held against blasphemous caricatures and lack of justice in Model Town incident. He said that PAT is the only party which is raising effective voice against anti-people steps of the government and thus playing the role of real opposition.