Dr Raheeq Abbasi urges peace-loving people to stand up against terrorism
Attended by Muslim political and religious leaders in addition to members of Christian community, a prayer ceremony was held in connection with Christmas in Noulakha church. Central PAT President Dr Raheeq Abbasi, PPP Secretary General Sardar Latif Khosa, Federal Minister Kamran Michael, Reverend Dr Majed Abel, Dr Kunwal Feroz, Pervez Khan Saroyya, former provincial minister Mian Imran Masood, Pir Usman Noori and others attended the ceremony.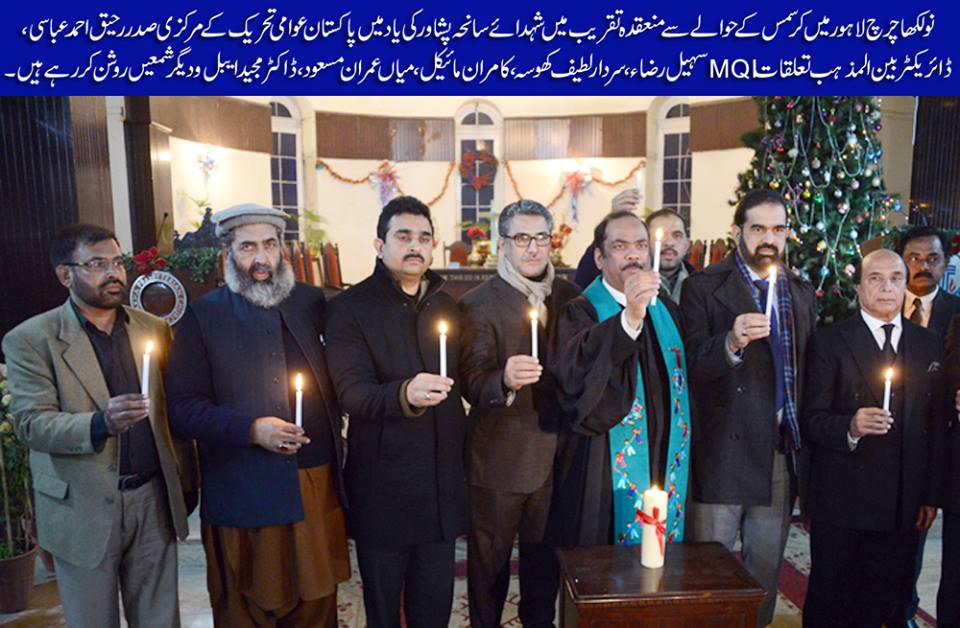 Speaking on the occasion, Dr Raheeq Abbasi said that Peshawar tragedy is a national tragedy and this tragedy of monumental proportions has saddened the whole nation. He said that the entire Pakistani nation pays its homage to their Christian brothers and sisters for celebrating Christmas in a simple manner as a mark of respect for the martyrs of Peshawar tragedy. He said that our Christian community has proven that they are not less patriotic than their Muslim counterparts, adding that the whole nation is expressing solidarity with the martyrs.
Dr Raheeq Abbasi underlined the need of unity among the peace-loving people of the world, saying that they would have to come forward and play their role actively for eradication of terrorism. He said that silence of peace-loving people is the biggest hindrance in the way of establishment of peace in the world. He said that if followers of all religions make efforts at individual and collective levels for establishment of peace, there is no reason why the world cannot become hub of peace. He said that there is a need to project peaceful, harmonious and integrating face of Islam by following Dr Tahir-ul-Qadri.
The PAT President said that the Model Town tragedy is the worst example of state terrorism in respect of escalating terrorism in the country. He said that PAT condemns terrorism in all its forms and manifestations at every level, adding that heart-rending incidents involving persecution of Christian community are height of brutality and these show that the rulers have failed to protect the life, honor and property of masses. He said that it is unfortunate that brutal incidents perpetrated on non-Muslim minorities have invariably happened during the tenures of the Sharif brothers.
Speaking on the occasion, Sohail Ahmad Raza, Director of PAT Interfaith Relations, felicitated the whole Christian community in general and Pakistani Christian brethren in particular on the festive occasion of Christmas on behalf of PAT chief Dr Muhammad Tahir-ul-Qadri. He said that Islam is a guarantor and protector of rights of religious minorities. He said that all non-Muslims living in Pakistan are equal and patriotic citizens of the country. He said that Dr Tahir-ul-Qadri's struggle for interfaith harmony will play its key role in ridding the humanity of terrorism and extremism.