PAT rolls out tour schedule of South Punjab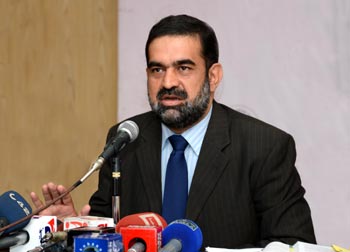 The countrywide reorganization process of Pakistan Awami Tehreek continues with zeal and zest. The PAT has issued schedule of Dr Raheeq Ahmad Abbasi's tour of South Punjab where he will address workers conventions, hold meetings with local notables and preside over reorganization of the party chapters. Dr Abbasi will deliver his keynote addresses in workers conventions in six major cities of South Punjab from January 28 to February 2.
Dr Abbasi will reach Dera Ghazi Khan at the head of a delegation on January 28 during the first leg of his tour. Shakir Mazari, Raja Nadeem, Rao Arif Rizvi, Iftikhar Qureshi Advocate, Qamar Abbas and others are part of the delegation. The central PAT President will address workers convention on January 28, 29, 30, 31, February 01 and 02 in Dera Ghazi Khan, Muzaffargarh, Layyah, Dera Ismail Khan, Bhakkar, and Kamalia respectively. He will also visit the families of those martyred, injured and arrested on August 10 and during revolution march sit-in during his seven-day stay in South Punjab. He will also hold important meetings with the local notables and politicians of different political parties. He will meet presidents of Tehsili, district and divisional chapters of PAT as well.
The PAT President will inaugurate public aid cells established at Tehsili and district levels against injustice and oppression of police and district administrations that will be monitored from the central secretariat directly. He will also launch membership campaign of PAT during his visit in addition to holding discussions regarding future political strategy in the light of instructions of PAT chief Dr Tahir-ul-Qadri.
The South Punjab tour of PAT President Dr Raheeq Abbasi is party of ongoing countrywide visit campaign. He will direct the local chapters to complete the process of the party reorganization at union council and unit levels at the earliest. Expressing his views before starting on his South Punjab tour, Dr Raheeq Ahmad Abbasi said that 10-point agenda of Dr Tahir-ul-Qadri represents hopes and aspirations of the people and a sure recipe to put Pakistan on track of progress and prosperity. He said that the ruling party suffers from internal rifts and chaos due to its anti-people policies. He said that the moment umbrella of power is removed, even the trace of PML-N will be obliterated.