Ziafat-e-Milad begins with the beginning of Rabi-ul-Awwal
The month of the Eid of All eids has finally come upon us. Minhaj-ul-Quran International (MQI) has began festivities in the form of many functions and events.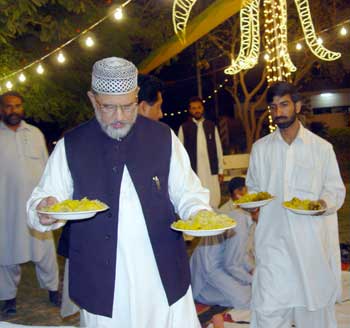 One of those daily functions is grand Mawlid dinners. MQI has the honour reviving the great tradition of grand feasts during the month of Rabi-ul-Awwal. Mawlid gatherings and feasts together with Mawlid marches were an annual practice in Makkah and the rest of the Arab world for centuries up until the beginning of the 20th century. This practice has began at MQI in Lahore and all over the world. There will be daily feasts from the 1st to the 11th of Rabi-ul-Awwal then the Grand Mawlid dinner at Minar-e-Pakistan will be on the night of the 12th of Rabi-ul-Awwal.
This year Minhaj-ul-Quran International (MQI) is breaking all past records in the celebration of Mawlid-un-Nabi (SAW). On the night of 12th Rabi-ul-Awwal beside the International Mawlid Conference, a Grand Mawlid Dinner is also being arranged in Minar-e-Pakistan Park Lahore, which will cater for 150,000-200,000 people. Reviving the custom of Past Muslim scholars, Sheikhs and pious Rulers the Grand Mawlid Dinner is a great step forward in celebrating Mawlid in the way it truly should be.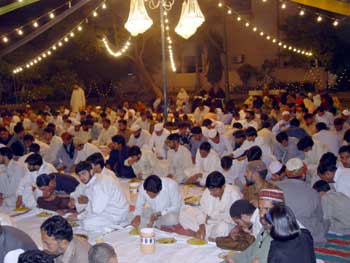 To participate in the great practice of reviving the celebration of Mawlid by the great revivalist organization (MQI), you can be part of this great event by being one of the hosts.
Two thousand goats will be sacrificed for the Grand Mawlid Dinner. The price of one goat including the cooking costs is Rs 6000. So if you would like to take part then email your bookings to dfa@minhaj.org immediately.
Every one is free to participate.