Faith leaders urge unity to protect religions from attacks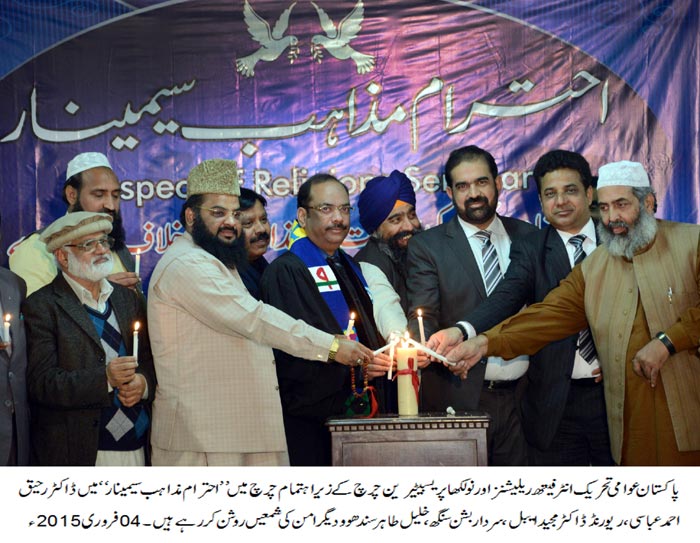 Faith leaders belonging to Muslim, Christian, Sikh and Hindu communities attended a seminar titled "Respect for Religions Seminar" held under the banner of PAT Interfaith Relations and Noulakha Church. The prominent attendees in the seminar included PAT President Dr Raheeq Abbasi, provincial minister Tahir Khalil Sandhu, Reverend Dr Majid Abel, Sardar Bishin Singh, Pundit Baghat Lal, Sohail Ahmad Raza, Priest Emmanuel Khokhar, priest Shahid Miraj, Pir Usman Noori, Maulana Zubair Ahmad, Maulana Ijaz Ahmad, Hafiz Muhammad Nauman, Javed William, Anwar Gondal and others.
Addressing the participants of the seminar, Dr Raheeq Ahmad Abbasi said that in the wake of publication of sacrilegious caricatures in a French magazine, there is all the more need of legislation at the international level so that those indulging in such reprehensible actions are brought to justice. He asked the government to take guidance from the letter PAT chief Dr Tahir-ul-Qadri written to world leaders and play its active role with courage in this regard. He said that those sowing rifts, hatred and discords among religions are the worst enemies of humanity, adding that the evil action has united the followers of all religions in their protest against the controversial sketches. He said that such evil characters should be proceeded against in the international court of law for threatening world peace and violating human rights of over one billion Muslims and the people of the whole civilized world.
Dr Madid Abel said in his speech that forces representing evil want to pit followers of one religion against others but they would be frustrated in their nefarious designs. He said that such conferences are organized with an intent to remove hatred and promote love among communities. He said that those who indulged in the act of drawing caricatures do not have any religion and they are representatives of Satan and should be proceeded against under the terrorism charges.
Speaking on the occasion, Sohail Ahmad Raza said that those drawing and publishing blasphemous caricatures are enemies of humanity and representatives of the extremists. He said that teachings of Jesus Christ are based on love and peace; therefore none of his true followers can dare think of such acts. He said that we welcome the statement of Pope Francis on the publication of these sketches.
Sikh leader Sardar Bishin Singh said that the whole Sikh community strongly condemns the publication of blasphemous caricatures. He said that the followers of all religions would have to respond to this challenge by forging unity in their ranks. He said that Dr Tahir-ul-Qadri has contributed significantly for promotion of interfaith dialogue and harmony and we hold his services in the high esteem.
Provincial minister Tahir Khalil Sandhu said that a handful of bigoted elements cannot hijack and destroy the world peace. He said that Dr Qadri is working for dialogue among the civilizations and we value his work. Other speakers also spoke on the occasion.