Dr Tahir-ul-Qadri's 64th birthday being celebrated today with simplicity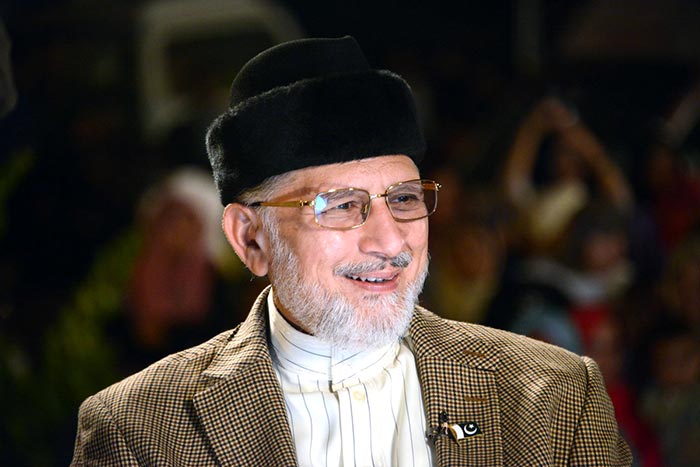 The 64th birthday of PAT chief Dr Muhammad Tahir-ul-Qadri is being celebrated around the world including Pakistan today with utmost simplicity. Dr Tahir-ul-Qadri was born on February 19, 1951 in Jhang city of Punjab. He got his early education from Jhang and higher education from Lahore. He founded Minhaj-ul-Quran International in 1981 which has a very active organizational network in over 100 countries of the world and is working to promote peace, interfaith dialogue and harmony in the world.
Dr Qadri has so far authored 1000 books, out of which 500 have been published to date and rest are undergoing various phases of printing. Irfan-ul-Quran, his rendering of the Holy Quran in Urdu and English languages, and 600-page Fatwa against terrorism and suicide bombing authored by him are magnum opus of our times, which have won international recognition and applause due to their depth and scholarship. The Fatwa in particular is a unique work of its kind, which has gone a long way in allaying misperceptions and confusions about Islamic teachings. The Fatwa has already been translated in various languages of the world such as Hindi, English and Indonesian whereas its translation in Danish, French, Arabic and Norwegian languages is in its final phase.
Dr Tahir-ul-Qadri has delivered over 6000 addresses on various subjects in over 100 countries of the world. The United Nations conferred the status of consultative representative on MQI in 2011 in recognition of its scholarly and intellectual struggle against terrorism and extremism and for promotion of peace, interfaith dialogue and harmony in the world. The establishment of one chartered university and 700 educational institutions throughout the country represents his proud contributions and services in the field of education.
Dr Qadri is one of rare people who acquired knowledge from Pakistan but spread it throughout the world. He is the only non-business personality with whose work and research the employment of thousands of families is associated. He has never accepted even a single penny as royalty from the sale of his published works and DVDs of his speeches.
Dr Tahir-ul-Qadri led a peaceful long march to Islamabad in 2013 to change obsolete and fraudulent electoral system, which is based on rigging and gave political, constitutional and democratic awareness to the masses. He also gave a renewed courage and determination to people to demand their constitutional rights through revolution march and sit in and presentation of 10-point reform agenda.