National leaders greet Dr Tahir-ul-Qadri on his birthday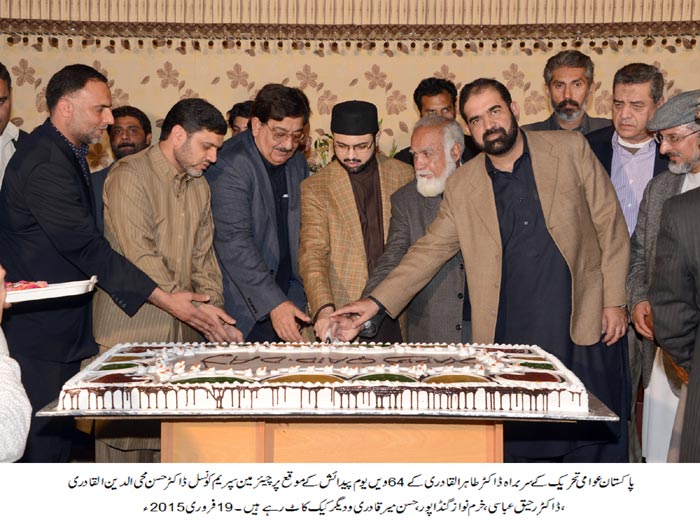 MQM chief Altaf Hussain, PML-Q President Chaudhry Shujaat Hussain, Pakistan People's Party Secretary General Sardar Latif Khan Kosa, Majlis-e-Wahdat-tul-Muslimeen leader Allama Raja Nasir Abbas, Sunni Ittehad Council head Allama Hamid Raza, PPP (Shaheed) Chairperson Ms. Ghanwa Bhutto, former Punjab governor Ghulam Mustafa Khar, former Punjab governor Chaudhry Muhammad Sarwar, and former Foreign Minister Sardar Aseff Ahmad Ali have greeted PAT chief Dr Muhammad Tahir-ul-Qadri on his 64th birthday. In their special birthday messages, they expressed their best wishes for him and prayed for his early recovery.
Provincial President of MQM Amir Baloch visited the PAT central secretariat with a cake on behalf of MQM chief Altaf Hussain. Ghulam Mustafa Khar recited a verse to convey his best wishes to Dr Qadri. Sardar Latif Khan Khosa said that we pray for early recovery of Dr Tahir-ul-Qadri and want to see him back to the country to play his political role in the national affairs. The national leaders sent birthday cakes and bouquets of flowers at the central PAT secretariat.
The 64th birthday of Dr Tahir-ul-Qadri was celebrated across the world including Pakistan with utmost simplicity. Two dozen goats were slaughtered on behalf of PAT leaders and workers at the central secretariat and special prayer ceremonies were held. The students of educational institutions, colleges and university belonging to Minhaj-ul-Quran arranged special ceremonies on the occasion. Rich tributes were paid to Dr Qadri for his multiple services for promotion of peace, interfaith dialogue and harmony in the world.
It is pertinent to mention here that the birthday of Dr Tahir-ul-Qadri is celebrated around the world including Pakistan with traditional zeal and zest every year. However, the PAT chief advised to hold ceremonies in simple and austere manner this year due to Peshawar, Shikarpur, and Model Town tragedies.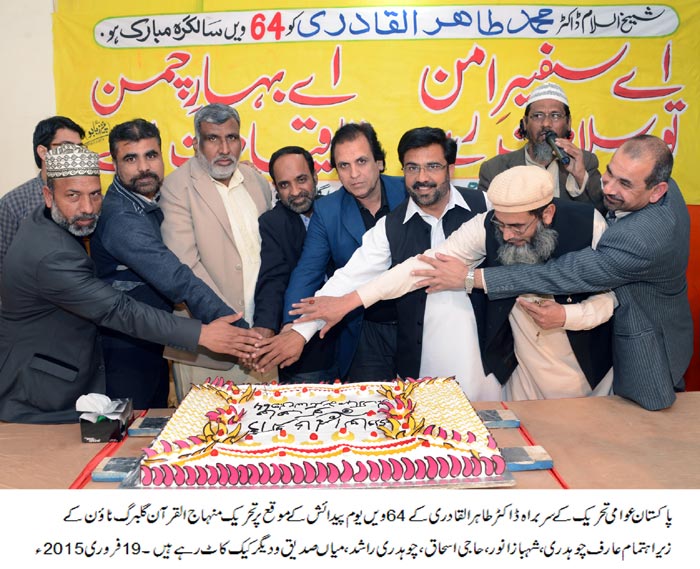 Dr. Hassan attends Quaid Day event at #MQI headquarters. #DrQadriAmbassadorOfPeace pic.twitter.com/LzDcH8NQgB

— Dr. Hassan Qadri (@DrHassanQadri) February 19, 2015
Dr. Hassan delivering his keynote speech at the Quaid Day event at #MQI headquarters. #DrQadriAmbassadorOfPeace pic.twitter.com/HECzYvFygb

— Dr. Hassan Qadri (@DrHassanQadri) February 19, 2015
Dr. Hassan attends Quaid Day event at Minhaj University with regard to collective Duaa. #DrQadriAmbassadorOfPeace pic.twitter.com/PA2xfMvIpq

— Dr. Hassan Qadri (@DrHassanQadri) February 19, 2015
Dr. Hassan addresses the students & staff members of COSIS, with reference to Quaid Day. #DrQadriAmbassadorOfPeace pic.twitter.com/8U9Acna8v5

— Dr. Hassan Qadri (@DrHassanQadri) February 19, 2015