A Christian delegation prays at Minhaj-ul-Quran mosque (Masjid)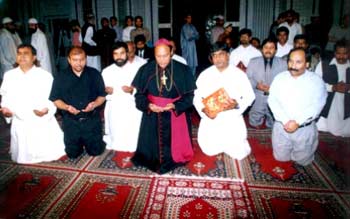 MCDF was established on Monday, November, 9, 1998 to promote religious tolerance between Muslims and Christians so that they could work for the promotion of peace, human rights, and democracy.
The forum was set up at a round-table conference, in which Muslims and Christian religious leaders were invited by the Pakistan Awami Tehreek (PAT) Chairman Prof Dr Muhammad Tahir-ul-Qadri.
The conference, attended by noted Bishops, fathers and Christians and Muslim religious leaders, through a unanimous resolution demanded Joint electorate system as provided in the constitution, prior to the 8th amendment. Saying the Constitution already provided the supremacy of Quran and Sunnah, the participants of the conference rejected the 15th Amendment Bill.
The participants demanded immediate removal of sense of insecurity among the minorities, elimination of discrimination, provision of fundamental rights and an improvement in the status of human rights, provided to all communities of Pakistan.
The said positive role of Christians, in establishment of Pakistan and its development, must be acknowledged as the sacrifices offered by them were not less than that of Muslims. For the first time in the country's history a dialogue was offered from the platform of a majority party, said Samuel Azariah, adding it was a historic day for Pakistan and all its communities. He appealed to all Pakistanis to eliminate discrimination in religious affairs for the prosperity of the country. He said Christians were Pakistanis as Muslims, and deserved equal rights as guaranteed in the Constitution.
The conference was chaired by Dr. Muhammad Tahir-ul-Qadri and participated by Bishop Bona Vaneer, chairperson Bishop Conference, Hyderabad, Bishop Samuel Robert Azariah, Moderator Bishop Church and Bishop of Raiwind, Arthur James, Group Capt Retd Cecil Chaudhry, Kanwal Feroze, Joseph Francis, general secretary, Pakistan Christian Party, Shahaz Bhatti, president Christian Liberation Front, Yunis Rahi Peter Jacob, Father James Channan of Rawalpindi, John Samuel of Diocese Church Faisalabad, Dr. George William, Administrator UCH, Edgar B Ram, Ms Mona Lisa, Rozina Warne, Samson Joseph, and Rega Francis.