Political gimmicks underway to damage war on terror: Dr Tahir-ul-Qadri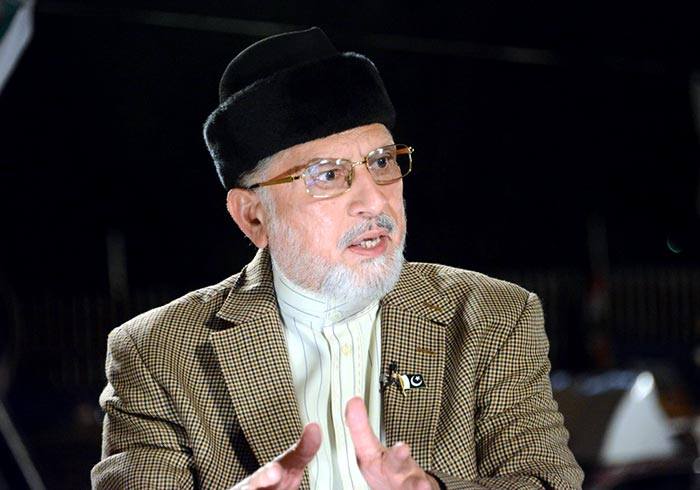 PAT chief Dr Muhammad Tahir-ul-Qadri has said that the country is burning in the fire of terrorism at the moment and the Prime Minister has embarked on a new façade to stop the members of assemblies from switching loyalties. He said that a Parliament whose legislators are not worthy of trust and reliability how can legislation approved by them can hold any value? He said that unhindered use of black money and declaration of 'price tags' on loyalties of the legislators during the Senate elections have, once again, exposed the reality of so-called democratic system and helplessness of the Election Commission before the nation.
Dr Tahir-ul-Qadri expressed these views while talking to senior PAT leaders on telephone from abroad. He said that those who founded and popularized the politics of 'Changa Manga' and horse trading are now worried by politics of horse trading. He said that he is already on record as having stated that political gimmicks have been started to damage the war on terrorism. He said that talk about introducing new constitutional amendment and convening an all-parties conference to stop the practice of horse trading is a new political gimmick which is meant to distract attention from National Action Plan against terrorism, which is the core issue of Pakistan.
Dr Tahir-ul-Qadri said that Interior Ministry says that 90% of the religious seminaries have nothing to do with terrorism, asking as to why the details about 10% of religious institutions involved in terrorism have not been shared with the nation. Why is the nation being kept in the dark as to who the patrons, financiers, and supporters of these seminaries are? He said that formal notification regarding appointment of Dr Toqueer Shah, central character in Model Town tragedy, has been issued and he will be flown abroad during the dark of night any day. He said that we have written to World Trade Organization and apprised the world body of the 'heroic works' of the Punjab Chief Minister's confidant. He said that no character of Model Town incident, whether big or small, would be able to escape punishment.
The PAT chief said that the rulers are behind the news of our arrests and proclamations of us being fugitive, adding that we have already faced every brutality of these rulers and will face them in future as well. He said that the innocent blood of the party workers will be avenged according to the country's justice system. He said that it is astonishing that the anti-terrorism courts do not have any other case pending before them except hearing the false cases registered against Dr Tahir-ul-Qadri and his workers.