PAT terms jailbreak of dangerous terrorists in GB as grave incident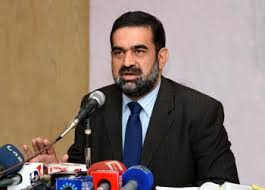 Pakistan Awami Tehreek (PAT) has held the federal government and Governor of Gilgit-Baltistan responsible for the grave incident of the condemned criminals' jailbreak who have been involved in acts of kidnapping and killing foreigners. It has demanded that the case should not only be heard by the military court but its investigation should also be carried out by the army intelligence agency.
This demand was made by PAT President Dr Raheeq Ahmad Abbasi while talking to media men here in Lahore on February 28. He said there is a 'mystery' that as soon as the PML-N party man was appointed Governor of GB, the incident of jailbreak by the terrorists happened. He said that this incident acquires even graver meaning that it took place at a time when the war against terrorism is being fought and presumably there is a high alert in the country, adding that escape of terrorists in these circumstances cannot be termed as a 'mere coincidence'. He said that the protection of jails housing very dangerous criminals and terrorists is the responsibility of the government, which has failed in fulfilling it.
Dr Raheeq Abbasi said that the Pakistan army is already engaged in war against terrorism and its officers and Jawans are offering sacrifice of their life to purge the homeland of this scourge. He said that compared to appreciable role being played by the military, the so-called democratic government firstly saved the already held terrorists from being punished and is now facilitating their escape from jails. He demanded that all jail officials including IG Prisons Department should be arrested because the incident of the terrorists' jailbreak cannot be tolerated at any cost. He said that the nation is now convinced that the present government is busy in thwarting the national action plan against terrorism and the escape of terrorists is its biggest proof. He said that Governor GB Barjees Tahir should also be included in the investigation of the jailbreak incident.