PML-N gave employment to terrorist in the police: Dr. Tahirul Qadri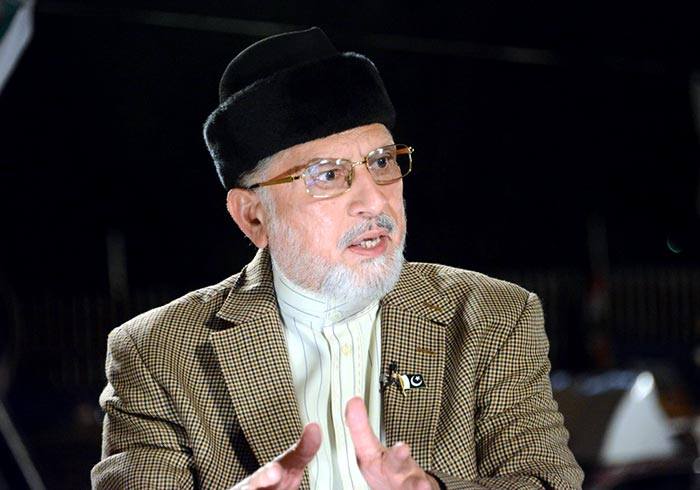 LAHORE: [04-03-15] The Chairman of Pakistan Awami Tehreek Dr. Tahirul Qadri has said that in this tenure of the PML-N many terrorists have been given employment in the police department and proof of our stance is that a constable is not being arrested and the name of a DPO is appearing in a target killing and terrorism. He said the whole incident is being pushed under the carpet by the Punjab Government.
Talking to PAT leaders from Canada by phone on Wednesday Dr. Tahirul Qadri said that to make the National Action Plan a success the Army Chief must review all the employments in the police since 2008. He said the FIR of the Model Town incident was registered after a lapse of two months and seven months have passed and an impartial investigation into the case has not started. And the limit is that we are waiting at the doors of a court to get the judicial commission's report of the incident for the last many months, he said.
Tahirul Qadri said that a provincial minister was given the task to employ terrorists in the police department and the same minister was the mentor of the killings in the Model Town incident. He said the removal of the minister from his post was just an eyewash but the fact is that the minister continues to work as the law minister and is enjoying all the perks and facilities of a minister.
Dr Tahirul Qadri said that if the head of Model Town incident 'joke' investigation team wants to reach the culprits than he must read the Justice Bakir Najfi inquiry commission report and that will reveal the faces of the killers. He said if the head of the government JIT was impartial than he would have resigned the day when a Police Inspector who was nominated in the FIR for the killings was rewarded and posted as a SHO in another Lahore police station.
The Secretary General of PAT Khurram Nawaz Gandapur said now the Punjab Government is trying to defame the judge because of his religious affiliation and is trying to create a sectarian issue in the province. He said the Punjab Government is sitting of this commission's report and not making it public and is trying to make it into a controversial issue. He said the Punjab Government had appointed the said judge itself and will have to take action as recommended in the report. He said the government will have to pay for the blood spilt in the Model Town incident.