Presidential ordinance exposes reality of Parliament: Dr Tahir-ul-Qadri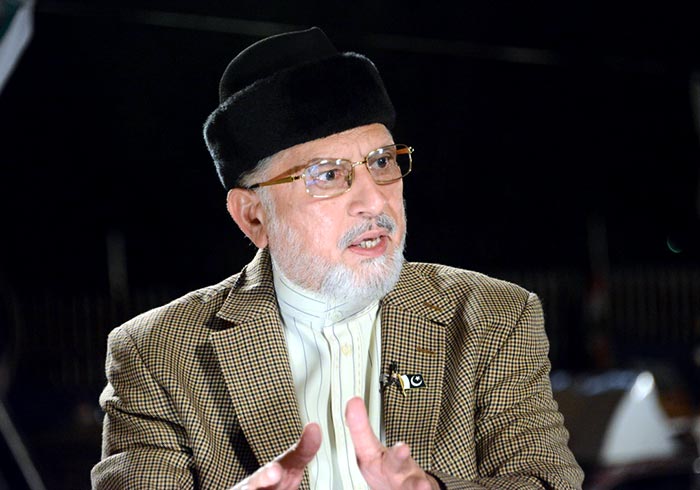 PAT chief Dr Muhammad Tahir-ul-Qadri has said that the biggest ever horse trading took place in the name of Senate elections in Pakistan's country and an electoral façade was staged. He said that the presidential ordinance issued in the dark of night one day ahead of the elections exposed the reality and importance of Parliament, adding that existence of the Election Commission was nowhere in sight during this whole process. He said that the members of legislatures were huddled into a cage and brought to polling booth for voting on the polling day. He said that the Prime Minister paid a political bribe of Rs. 30 million to each member of Parliament, hosted lavish dinners and lunches for them for one week and won the elections. He asked, what will be moral status of legislation carried out by such Senate and the National Assembly?
Dr Tahir-ul-Qadri expressed these views while talking to central media cell in connection with the Senate elections. He said that people's conditions would never change through fake elections and fake democracy. He said that the present rulers brought to their name the record of holding incomplete and fraudulent elections of Senate as well. He said that the FATA elections were halted in order to improve bargaining position. He said that the people lost the remainder of their trust in the present fake democratic system following the recent Senate polls and it was proven once again that money was more powerful than institutions. He said that a drama of APC was staged to bring about constitutional amendment to stop the horse trading according to a plan. He said that those who got the dummy president to issue an ordinance in the darkness of night should tell the nation at which APC or floor of assembly did they decide about it?
Dr Tahir-ul-Qadri said that the present rulers halted the continuing session of Parliament for issuance of the ordinance in their interest and convened it again after the ordinance was issued and in this way the national exchequer was burdened with expenditure of millions of rupees. He said if the decisions of national interests were to be taken over and above legislatures and in the dark of night, then what is the need of having these institutions in the first place? He said that these houses were being run and maintained on the public funds which have been turned into markets for trading. He said that unless FATA elections were conducted, the election process would not be complete and thus the election of the Chairman and Deputy Chairman Senate would not take place. He said that these forces are not ready to let the present status quo system continue which they have pledged to protect.