A large number of terrorists inducted into police force during PMLN's tenure: Dr Tahir-ul-Qadri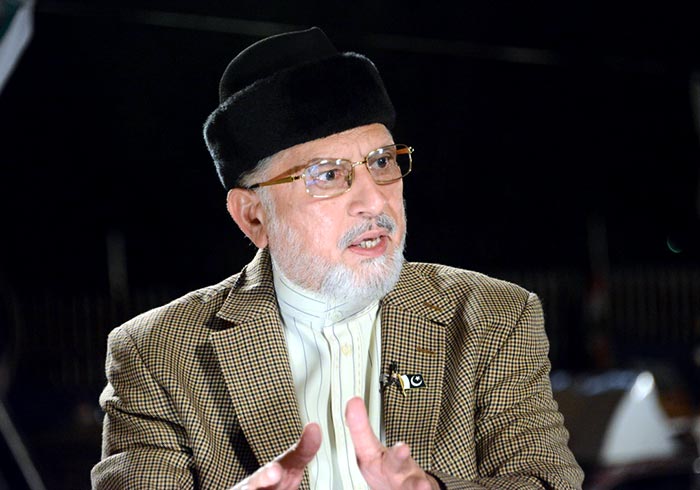 PAT chief Dr Muhammad Tahir-ul-Qadri has said that a large number of terrorists were recruited in Punjab police during the current tenure of the government. He said that arrest of one terrorist police constable represents an irrefutable proof and affirmation of our point of view. He said that the name of one DPO is also being mentioned in target killing and incidents of terrorism whom the Punjab government is trying to protect. He suggested that the Army Chief should get a fresh scrutiny conducted into induction of all officers and officials into the police force since 2008 onwards. He said that the trained terrorists wearing the police uniforms shed the blood of our workers in Model Town on June 17. He said that FIR of the incident was registered after two months since its happening and it has now been many months now that neutral and fair investigation into the tragedy has not got underway as yet, adding that so much so that we await the order of the honorable High Court for release of Model Town Judicial Tribunal.
Dr Tahir-ul-Qadri expressed these views while talking to senior party leaders on phone the other day. He said that the task of terrorists' recruitment into police was handed over to former Law Minister who is a principal accused of Model Town case as well. He said that a drama of removing him from his post was enacted on the same day when the incident happened and who is still working as the Law Minister for all intents and purposes with all his perks and privileges.
Dr Qadri said that if the head of 'joke' JIT wants to reach the killers, then he should study the report of Justice Baqir Najfi and the faces of killers will be unmasked. He said that had former CCPO and head of the government's JIT been impartial, he should have tendered his resignation the same day when an Inspector, nominated in Model Town case, was posted as SHO of a police station in Lahore on the personal interest and order of the Chief Minister. He asked the workers to get ready again to struggle for seeking justice for Model Town victims. He said that the beginning of end of corrupt and oppressive system would get underway with the hanging of killers of Model Town tragedy in accordance with the country's justice system.