Martyred & injured women of Model Town tragedy await justice: PAT Women Wing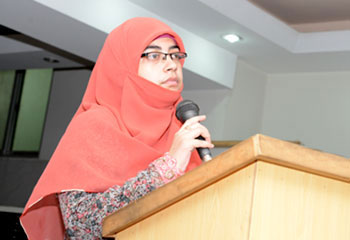 Addressing a consultative meeting in the central secretariat, PAT Women Wing President Mrs. Razia Naveed has said that martyred and injured daughters of Model town tragedy await justice for last seven months. She said that if the Punjab Chief Minister considers torture on women as grave crime, then he should not protect the police officers and officials who committed violence on PAT women and bring them to justice for these atrocities. She asked him to prove through action that he considers every woman of Punjab as mother, daughter and sister and is serious in getting justice for them.
Ms. Razia Naveed said that the PAT women braved the state terrorism and brutality with exemplary courage. She said that we have not forgotten the blood of our brothers and sisters and the injuries so caused are alive in our hearts. She said that women of PAT are waiting for the orders of their leader and the day he announced the start of the movement to get justice, we would be on the roads against oppressive rulers within no time. She said that we are even more resolute than before as Dr Qadri never gave a call for the long march for worldly gains. She said that ending of corrupt and exploitative system is our destination for which we are willing to render every sacrifice.
The PAT Women Wing President further said that a woman minister of his cabinet has already put her protest on record regarding discrimination of the Punjab government. She revealed in her letter that her ministry assiduously prepared five bills aimed at protecting women rights but they have been hanging fire in the files of the Cabinet and concerned standing committees for a long time. She said that the Punjab Chief Minister has spent seven years in power on the basis of hollow claims and slogans but reminded that God metes out punishment in an invisible manner, adding that one day he would have to answer for all of his actions and oppressions before the people. She said that not long ago the privileged son of the Chief Minister not only tortured a woman named Ayesha Ahad himself but also used police for the same purpose. She said that had the Chief Minister taken steps for dispensation of justice to the woman, scores of them have been spared discrimination and oppression of men.