Torture on women violation of fundamental human rights: PAT Women Wing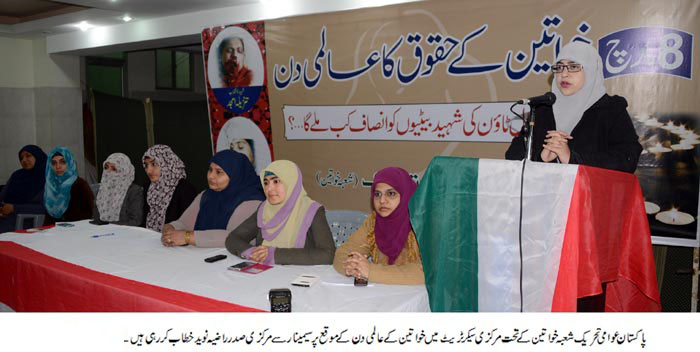 The Women Wing of Pakistan Awami Tehreek (PAT) organized a seminar to mark the International Women Day on March 08 at the central secretariat in which a large number of women belonging to various walks of life participated. Addressing the seminar, the Women Wing President Mrs. Razia Naveed said that more than 90% of women are victims of domestic violence. She said that a large chunk of our population is living below the poverty line, adding that millions of women and children are working in abysmal conditions due to poverty but the rulers have become insensitive as they have turned a blind eye to their condition. He said that women do not enjoy any kind of legal or economic security.
Mrs. Razia Naveed said that it has been 67 years since the country came into being but we have not been able to get rid of anti-women customs, discriminatory laws, antiquated traditions and obsolete feudal system. She said that violence on women is the violation of fundamental rights, which negates sanctity and prestige of human life. She said that dozens of women are subjected to physical and mental torture in Pakistan everyday but the incompetent rulers have not done enough to reduce the number of such horrible incidents and failed miserably in getting the relevant laws implemented. She said that over 8000 cases of torture on women surfaced during the first 18 months of the tenure of the present government. She said that a number of laws were formulated but the nation is worried over the steadily increasing number of women abuses in the country in general and Punjab in particular. She said that violation of women rights and use of torture against them has acquired very ominous and grave form in Pakistan.
Mrs. Razia Naveed wondered how a Chief Minister who remains updated on as small matters as dengue mosquito could remain oblivious to breech of women's sanctity and honour in Model Town on June 17. She said that the powerful rulers violated the law of the land, Islamic teachings and committed a great oppression when they used police to fire bullets at the faces of innocent women in Model Town. She said that women would continue to raise their voice for justice against the throne of Lahore. She said that martyred and injured daughters of Model town tragedy await justice for last seven months. She said that if the Punjab Chief Minister considers torture on women as a grave crime, then he should not protect the police officers and officials who committed violence on PAT women and bring them to justice for these atrocities. She asked him to prove through action that he considers every woman of Punjab respectable as mother, daughter and sister and is serious in getting justice for them. She said that the PAT women braved the state terrorism and brutality with exemplary courage. She said that we have not forgotten the blood of our brothers and sisters and the injuries so caused are alive in our hearts. She said that had the Chief Minister taken steps for dispensation of justice to Ayesha Ahad, scores of the women would have been spared discrimination and oppression of men.
Mrs. Razia Naveed said that International Women Day is not only an opportunity to celebrate the successes of womenfolk in various fields but also an occasion to double our resolve to fight discrimination, oppression and anti-women practices. She said that the increasing number of incidents of terrorism, lawlessness, price hike, unemployment and economic meltdown have affected the status of women in society. She said that it is a matter of great concern that crimes against women are on the increase by the day. She said that the government's claims of good governance can be measured from the fact that 1900 cases of kidnappings, 1100 cases of rape, 900 cases of suicide, 550 cases of Vani and 200 cases of Karokari were reported during the last one year in Punjab alone but the so-called Chief Minister does not tire of harping on the mantra of good governance.
She said that had the rulers been seriously concerned about welfare of the women, they would have ensured the implementation of relevant laws but added in the same breath they could only attend to such sensitive and important matters if they get free from frivolous projects such as metro bus and lap top scheme. She said that is a matter of shame that thousands of women in Pakistan are killed in the name of honour.
Gulshan Irshad, Nabila Zaheer, Afnan Babar, and Malika Saba also spoke on the occasion.