Working for peace our collective responsibility: MQI Interfaith Relations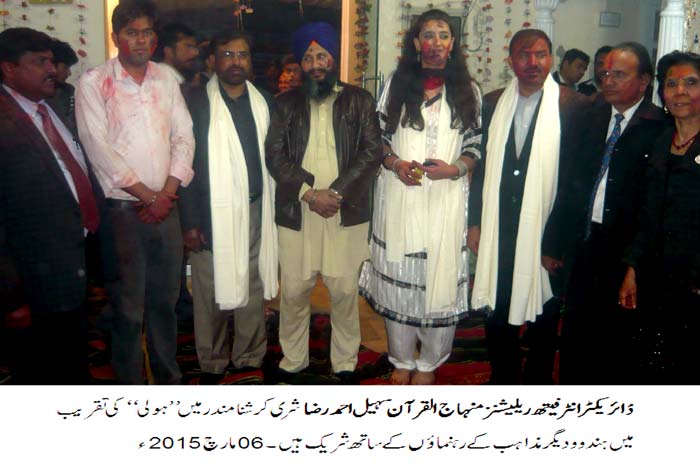 Sohail Ahmad Raza, Director of MQI Interfaith Relations, attended Hindu cultural and religious festival of 'Holi' organized at Shri Krishna Temple under the banner of Evacuee Trust Property Board, Government of Pakistan. Sohail Raza is also a member of the Board.
Addressing the ceremony, he congratulated the Hindu community on behalf of PAT chief Dr Muhammad Tahir-ul-Qadri. He said that 'Holi' is a cultural festival of the sub-continent which heralds the beginning of spring season. He said that the festival is all about colours. He said that Pakistan is a great land of the Sufis where they spread the message of peace, love and interfaith coexistence in a harmonious manner. He said that it is for this reason that people belonging to all faiths and culture visit the shrines of these Sufis even today to present their respects. He said that all non-Muslim citizens enjoy equality of rights like their Muslim counterparts. He said that all followers of different faiths have a duty to work for peace and harmony in the society. He said that a handful of extremists cannot hijack the identity of majority. He said that all of us should endeavour to make this land hub of peace and love.