Govt hiding behind a private party in the Model Town incident: PAT spokesman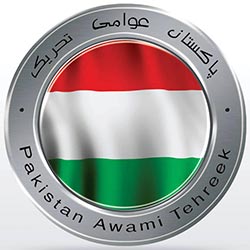 LAHORE: [09-March-2015] The lawyers of Pakistan Awami Tehreek have said that under Article 19-A obtaining a copy of the Judicial Commission's report on Model Town incident is our Constitutional right. He said that the Punjab Government instead of issuing the report is hiding behind a 'private party.'
Talking to reporters outside the courtroom here on Monday they said that this right is the mother of all rights and our demand to get information is protected and provided by the court. The lawyers panel of advocates Ali Zafar, Naeemuddin Ch, M Nasir Iqbal, Sardar Ghazanfer, Imtiaz Ch, Asif Sulehria, Mehbood Ch and Fauwad Akhtar.
Advocate Ali Zafar said that we have requested the court to issue an order for the release of the report to PAT and the debate on the Constitutional formation of the judicial commission is a matter we will discuss at a later time. He said the court should issue its judgment on our petition without any delay. He said that PAT lawyers will give their statement and legal arguments on the issue on March 11.
Meanwhile the spokesman of the chairman Pakistan Awami Tehreek Dr. Tahirul Qadri said that to get a copy of the report is our constitutional right and the courts which are the custodian of the legal rights of the people of Pakistan must fulfill its obligation and provide us a copy of the judicial commission report. He said the whole nation is waiting the day when the culprits of the Model Town incident are punished. He said after Allah Almighty courts are the last place where we can seek justice.
The spokesman said that the Punjab government showing its stubbornness is now hiding behind a private party but how long can they hide. One day they will have to face the wrath of the divine Justice. They will be held accountable for the blood they have spilt and will have to repay in the same manner. He said any person who is protecting the murderers will have to answer here and the hereafter. He said that PAT will not leave any stone unturned to obtain justice and will not rest until the killers of the Model Town incident are hanged.