PAT terms law and order critical for national development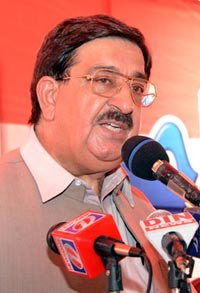 On his return from two-day organizational visit of Karachi, PAT Secretary General Khurram Nawaz Gandapur has said that the nations that live on foreign loans go down the drain and there is no way they can command respect in the comity of nations. He said that people are waiting for the day when the accused of the Model Town and Baldia Town tragedies are made to face justice. He said that our decisions are taken somewhere else instead of Parliament despite enjoying freedom for last 67 years. He said that the there is the worst leadership crisis in the country and consequently, our problems are becoming complicated by the day.
Khurram Nawaz Gandapur expressed these views while addressing the meeting of PAT Central Working Council on his return from Karachi. Sajid Bhatti, Jawad Hamid, Muhammad Nooruallh, Qazi Faiz, Bashrat Aziz Jaspal and others were present on the occasion.
Khurram Nawaz Gandapur said that the people are justified in asking the federal and provincial governments as to why they have failed in checking the incidents of target-killing and kidnappings in Karachi. He said that the help of Rangers should be sought in checking increasing graph of crimes in Lahore as well. He said that the intense feeling of insecurity has eclipsed the beauty of provincial metropolis of Karachi with the result that people's daily routine has been paralyzed. He said ethnic & linguistic issues, provincialism and religious and secular extremism have undermined peace and stability in the country.
The PAT Secretary General said that the people of Pakistan in general and residents of Karachi in particular would have to play the same role which they played during the freedom struggle. He expressed his deep concern on unending incidents of terrorism, target killings and deteriorating law and order situation in Karachi, the financial capital of Pakistan and said that this situation has ominous implications for the economy of the country. He said that general law and order situation in the country is already pretty bad, adding that if the law and order is not brought under control in the important city of Karachi, then it can harm the country to an irreparable extent.
He asked the federal and Sindh governments not to allow political expediencies to stand in the way of national interest, adding that those involved in target killing and incidents of terrorism should be meted out exemplary punishment so that none has the courage to play with law and order of the country. He asked the PAT workers to take active part in mass awareness campaign against corrupt system.