Attack on Christian community is an attack on Pakistan: Dr Tahir-ul-Qadri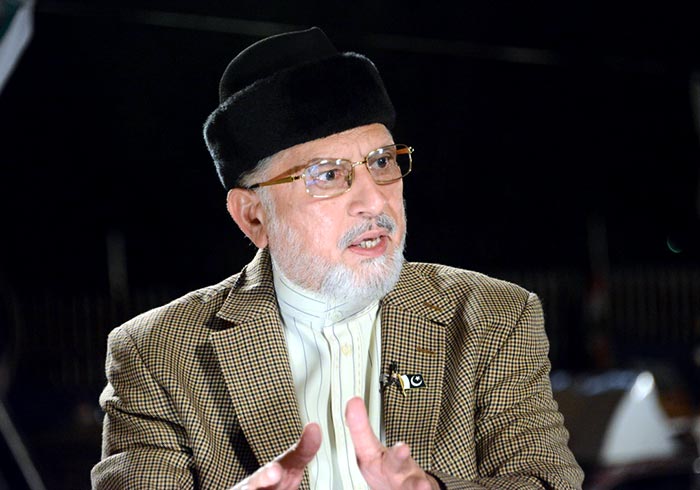 PAT chief Dr Muhammad Tahir-ul-Qadri has strongly condemned the suicide attack on churches in Youhanabad in Lahore today and expressed his deep sense of grief and sorrow on the loss of precious human lives.
Declaring three-day mourning, the PAT chief and described the act of terrorism as an attack on Pakistan. He said that it is a national tragedy which has grieved every patriotic Pakistani. He said that corrupt and incompetent rulers have failed to protect lives and properties of the people. He reminded the ruling elite that those leaving the masses at the mercy of terrorists would not be able to escape public wrath. He said that the Quaid-e-Azam's Pakistan was established to protect the non-Muslim citizens and give them equal rights but unfortunately, the animals are safer here than human whose blood is being shed like water.
Dr Qadri said that terrorism will not be eliminated merely through statements till Day of Judgment, adding that the state will have to activate its iron hands to flush out terrorism once and for all. He said that the rulers and politicians who have soft corner for terrorists live in fool's paradise if they think so. He said that terrorism is a blot on the face of Pakistan and the government will have to break all shackles of expediency to crush the scourge of terrorism.
I strongly condemn bomb blasts in Youhanabad church. Terrorism and suicide bombings are proof of Punjab government's failure.

— Dr Tahir-ul-Qadri (@TahirulQadri) March 15, 2015
Dr Tahir-ul-Qadri said that Pakistan has been victim of terrorism for last one decade but the ruling elite does not seem to have the kind of determination and resolve required to uproot this menace. He said that unending incidents of terrorism have brought a bad name to Pakistan and promoted Pakistan's impression as being unsafe country in the comity of nations, adding that the powers that be are responsible for this state of affairs.
Dr Qadri said that PAT and MQI have always championed the cause of non-Muslim citizens and struggled for conferment of equal rights on them like their Muslim counterparts. He said that we are with our Christian brethren in this great hour of trial and tribulations. He said that all PAT and MQI chapters both inside and outside Pakistan will observe mourning for three days as a mark of solidarity with the grieving Christian community. He said that a handful of beasts in the form of humans have eaten into vitals of peace of this country. He said that the whole nation has got together to condemn and protest suicide bombing on Church in Youhanabad. He said that the whole Pakistan is in deep grief over this heart-rending incident.
PAT chief Dr @TahirulQadri strongly condemns bomb blasts in Yohnabad church.

— PAT Official PK (@PATofficialPK) March 15, 2015