Religious scholars laud Dr Tahir-ul-Qadri for his anti-terror Fatwa
PAT Secretary General says government is making efforts to get judicial commission on Model Town declared as illegal.Says JIT consists of all yes-men of the rulers.
Dr Tahir-ul-Qadri was the first to raise effective voice against terrorism at international level.
Fatwa against terrorism authored by Dr Tahir-ul-Qadri has exposed terrorists and their evil ideology.
Speakers address anti-terror seminar held by Minhaj Ulama Council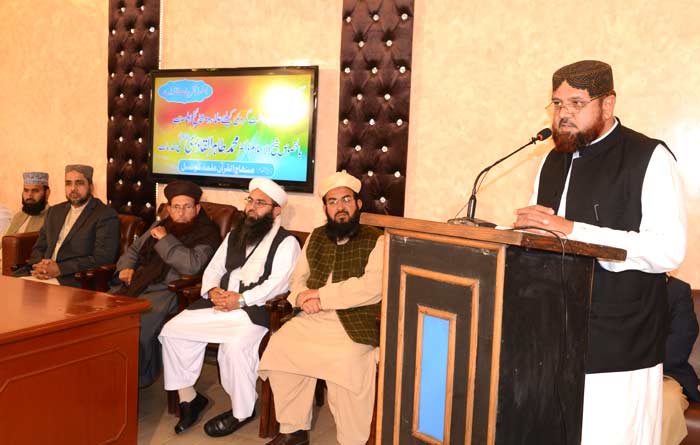 PAT Secretary General Khurram Nawaz Gandapur has said that the Punjab government has started a negative campaign to get the judicial commission on Model Town killings declared as illegal. He said that if the commission is declared as illegal, then action should be taken against those who requested its formation and those who approved it. He said that the Punjab government is the promoter of terrorists, adding that we do not accept the Joint Investigation Team consisting of all yes-men. He said that the only retribution of Model Town tragedy is 'Qisas' only according to law of the land.
Khurram Nawaz Gandapur stated this while addressing a seminar titled 'Role of religious scholars in elimination of terrorism' held at the central secretariat under the banner of Minhaj-ul-Quran Ulama Council on March 10, 2015. Those who addressed the seminar included Ulama Council President Allama Farhat Hussain Shah, Allama Imdadullah Qadri, Mufti Muhammad Arshad Qadri, Pir Tahir Sajjad, Allama Mir Asif Akbar, and Allama Muhammad Hussain Azad. The religious scholars expressed their lack of confidence on the pace of implementation on National Action Plan (NAP) against terrorism.
The PAT Secretary General said that the Punjab government is bent on thwarting the NAP, which is manifest from its indiscriminate targeting of religious scholars and speakers of Mosques. He said that scars of terrorism perpetrated on June 17 in Model Town are entrenched on our hearts, adding that those government elements who indulged in this brutality will be made to face justice. He said that PAT will continue to demand justice for its martyrs and the injured. He said that the judicial commission report has clearly held the Punjab government responsible for Model Town massacre. He said that conspiracies are being made against the judicial commission and its report. He said that the judges of anti-terrorism courts are appointed by the Chief Minister which we do not accept. He said that if the Model Town tragedy is transferred to military court for trail, we would welcome the move.

Addressing the seminar, President of Minahj-ul-Quran Ulama Council Allama Farhat Hussain Shah said that the whole nation suffers from acute insecurity due to rampancy of terrorism in the country. He said that there is no place in the country such as markets, mosques, imambargahs, military installations, law enforcement institutions which have not been targeted by terrorists. He said that scourges wrought by terrorism are spread all over the country.
Allama Farhat Hussain Shah said that Dr Tahir-ul-Qadri was the first person who raised effective voice against terrorism at the international level and for this purpose, he issued historic Fatwa against terrorists and anti-humanity elements by authoring research-based and scholarly 600-page magnum opus, which won global applause around the world. He said that this historic work of Dr Tahir-ul-Qadri created quite a commotion in the ranks of terrorists and their sympathizers as their ideology was badly exposed. He said that the terrorists have taken on the peace-loving and patriotic religious scholars and shrines of the saints as a mark of revenge. He vowed to thwart all such anti-Islam elements with the power of unity and real teachings of Islam.
In his speech on the occasion, Mufti Muhammad Naeem Noori said that peace-loving Sufis and religious scholars played a key role in the promotion of true Islamic message and establishment of Pakistan and added that it is they who would protect it. He said that the rulers are strengthening the hands of extremists by taking action against peace loving religious scholars in the name of Amplifier Act, stating that these are the very people who raised voice against terrorism.
Expressing his views at the seminar, renowned religious scholar Allama Arshad-ul-Qadri said that Dr Tahir-ul-Qadri has placed the MQI into high pedestal after untiring struggle whereby the organization has become a global entity working for promotion of peace, interfaith dialogue and harmony. He said that the day is not far when the dream of revolution will materialize. He said that he has studied hundreds of movements and only that movement succeeds which has five elements namely Dawa, training, organization, movement and revolution, adding that MQI has raised the slogan of peaceful, green revolution after crossing these stages. He said that he fully supported Dr Tahir-ul-Qadri's idea of change.
Pir Syed Abdul Qadir said in his remarks at the seminar said that the religious scholars are the vanguard of Dr Tahir-ul-Qadri's revolution. He said that Dr Qadri exposed the conspiracy being hatched against the Muslims in the world by issuing Fatwa against terrorism. He said that terrorists have become a force to reckon with simply because those in government positions delayed action against them and let them become powerful with the passage of time. He said that the government is targeting the peace-loving and peace-promoting religious scholars in the name of Amplifier Act instead of apprehending the supporters of terrorists. He said that the government's partiality is evident from the indiscriminate and unjustified mass arrests of religious scholars.
He said that Islam is a religion of peace which guarantees the protection of fundamental rights of non-Muslims. He said that Dr Tahir-ul-Qadri has effectively pleaded the peaceful philosophy of global Islam, which is getting acceptance in the world.
The seminar was attended by people belonging to all walks of life.