Nation facing consequence of employing 'the unemployed' of Afghan Jihad: Dr Hussain Mohi-ud-Din Qadri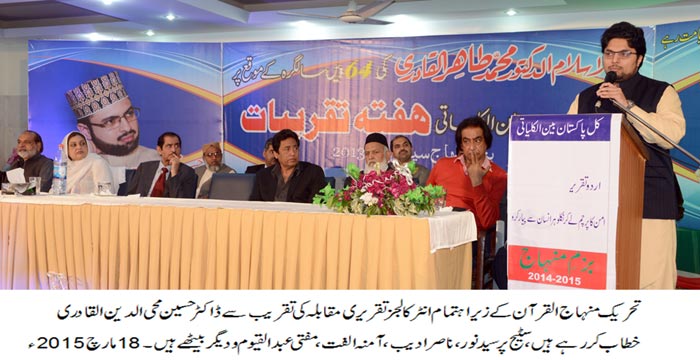 Addressing the third-day ceremony being held under the banner of Bazm-e-Minhaj, Dr Hussain Mohi-ud-Din Qadri, President of MQI Federal Council, has said that the nation is suffering the result of 'employing the unemployed of Afghan Jihad in religious seminaries'. He said that leaders preempt the crises before they explode and find solutions to them, adding that the leaders of today do not even know anything even after the crises are past. He said that it is consequence of thinking 'from one's belly and not mind' that the whole country has become hub of problems. He said that today's youth is well equipped with God-given blessings of patriotism, Islam, farsightedness and education, adding that there will be light with the lighting of these candles.
Dr Hussain Mohi-ud-Din made these remarks in his presidential address. Students from more than 60 universities and colleges took part in the Urdu declamation contest on the subject of 'Step out with flag of peace and love every human being'. The distinguished guests of honour on the occasion included PAT Secretary General Khurram Nawaz Gandapur, renowned anchorperson and senior journalist Sohail Warriach, renowned columnist Qayyum Nizami, senior journalist Ishaq Rana, renowned film writer Nasir Adeeb, film writer Syed Noor, and former MPA Amina Ulfat.
Speaking on the occasion, Qayyum Nizami said that the people's revolution was a reality yesterday and it is a reality today and it is bound to come. He referred to a Hadith wherein it was said that one should save oneself from destitution and poverty as it can lead to disbelief. He said that Dr Tahir-ul-Qadri has prepared such a breed of educated youth who have the potential of steering the ship of Pakistan out of unchartered waters.
Senior journalist and anchorperson Sohail Warriach said that he is neighbour of MQI Secretariat and he bears a witness to the fact that Dr Tahir-ul-Qadri and his workers are peace-loving people. He said that when barriers were placed around MQI Secretariat, the people of the neighbourhood were duly consulted and he was one of those who supported the installation of barriers. He said that his heart is still grieved over what happened on the fateful day of June 17.
Renowned writer Nasir Adeeb said that Dr Tahir-ul-Qadri spread knowledge and gave awareness about religious teachings. He said that the PAT chief is the pride of the whole Islamic world. He prayed may Dr Qadri get well soon and resume his journey of revolution.
Film writer and director Syed Noor said in his views that he has a very old association with MQI. He said that it is a place from where only peace and love radiates. Amina Ulfat said on the occasion that the youth do not need solar lamps or laptops. Rather they need share in policy making. She said that as long as martyrs of Model Town tragedy do not get justice, questions will continue to be raised at every forum of justice.
Mufti Abdul Qayyum Hazarvi, Jawad Hamid and others were present on the occasion.