Plan to assassinate Dr Tahir-ul-Qadri & Imran Khan was made during sit-in: PAT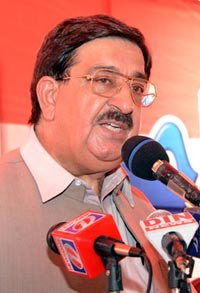 Stating the facts behind dismissal of former SSP Islamabad Muhammad Ali Nekokara, PAT Secretary General Khurram Nawaz Gandapur has said that the rulers wanted to stage an assassination attempt on the lives of PAT chief Dr Tahir-ul-Qadri and PTI leader Imran Khan during Islamabad sit-in and a large number of notorious characters from Punjab police and private guards were called in to Islamabad for this purpose. He said that the effort was made to use IG Islamabad first and then SSP Islamabad Muhammad Ali Nekookara for implementation on the heinous plan. He said that PML-N leadership, which is so fond of Nazism, has dismissed the honest and conscious police officer following his refusal to go along with the plan. He said that Nekokara remained loyal to the Constitution and oath of his office and refused to use force to kill innocent people for which PAT salutes him.
The PAT Secretary General said that the former SSP Islamabad has earned a great deal of respect and credibility among the people and his name will always be mentioned with reverence and those who used the state power against the innocent people will not only be humiliated in this world but also in the hereafter. He said that Muhammad Ali Nekokara established a rare example of bravery, courage and consciousness. He asked the former SSP Islamabad to knock at the door of the courts for justice, adding that the prayers of the nation are with him.
Khurram Nawaz Gandapur claimed that the plan to attack Imran Khan and Dr Tahir-ul-Qadri n the garb of arresting them was named as 'Operation Clean Bowled' and the headquarters for the supervision of the operated was 90 Shahra-e-Punjab, The Mall, Lahore. He said that we were warned that there was a danger to the life of Dr Tahir-ul-Qadri advising him to reduce the frequency of coming out of his container and delivering speeches every day. He said that we did improve upon our security arrangements but did snot get afraid of any cowardly conspiracy of the government. He said that the governments come and go but the country is there to stay forever. He said that Muhammad Ali Nekokara rendered a great sacrifice for his country and department, which will not go in vain. He said that some officers were used in Model Town Lahore that are facing inquiry today and soon they will have the noose of hangings around their necks. He asked those who have been targeting PAT and PTI leaderships through government officers to tell why did they commit the 'crime' of holding dialogue with these parties?