We are struggling for education for all, health for all & justice for all: Dr Hassan Mohi-ud-Din Qadri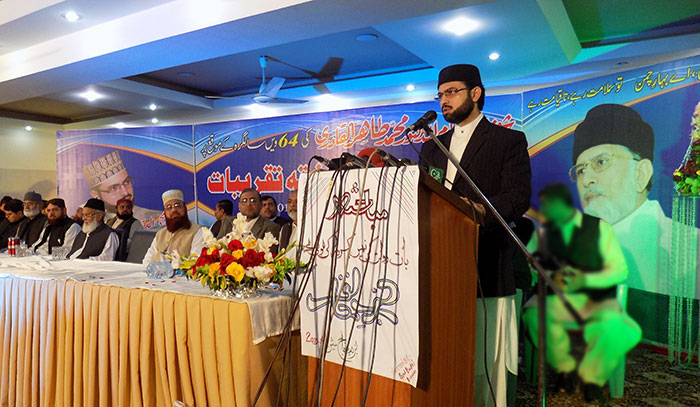 Dr Hassan Mohi-ud-Din Qadri, Chairman of MQI Supreme Council, has said that the youth are future of Pakistan. He asked the youth to spend their energies on education and research, adding that one could fight off extremist attitudes by taking part in healthy extra-curriculum activities.
Dr Hassan Mohi-ud-Din Qadri expressed these views while addressing the concluding session of Inter-Collegiate speech competition held under the banner of Bazm-e-Minhaj. He also distributed prizes among the position holding students in speech and essay competitions.
Dr Hassan said that Dr Tahir-ul-Qadri has given education of peace and love and gave students the message of living for others. He said that Dr Qadri has been waging a struggle for revolution since 1972, adding that we will see its practical manifestation soon Insha'Allah. He said that our struggle is aimed at education for all, justice for all, health for all and fair distribution of national resources. He said that culture of discretion and VIPism has caused an irreparable damage to Pakistan's Ideology.
The President of Supreme Council further said that people's relationship with state and democracy has weakened due to corrupt and accidental leadership. He vowed to go to any limit to strengthen this bond, saying that we will not hesitate from offering any sacrifice for this lofty ideal. He said that we are struggling to bequeath prosperous and developed Pakistan to succeeding generations. He said that what to speak of putting a price tag on Dr Tahir-ul-Qadri, no one can even buy his workers trained by him intellectually, spiritually and morally. He said that journey of revolution continues and will stop only after getting its destination of change in the system.