PAT delegation meets Chief Election Commissioner
Gives suggestions from Dr Tahir-ul-Qadri for improved working of EC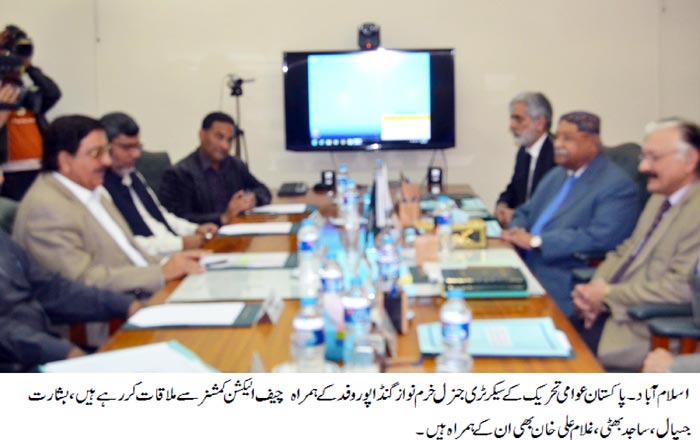 Islamabad: [26-03-15] The secretary of Pakistan Awami Tehreek Khurram Nawaz Gandapur led a delegation and met the Chief Election Commissioner Sardar Raza Khan and gave him a briefing on the suggestions of the PAT Chairman Dr. Tahir-ul-Qadri for an independent election commission.
The delegation also briefed the CEC on the election rally held by the Railways Minister in the Walton area of Lahore Cantonment and demanded action against the minister for violating the constitution. Punjab PAT president Basharat Jaspal , Umar Riaz Abbasi and Sajid Bhatti were also part of the PAT delegation.
The PAT delegation gave the following suggestion to the CEC for consideration:
To ensure that the Article 62 and 63 are fully implemented as due to the slackness these articles have become a joke.
To make the EC an independent authority reforms must be introduced to make it a financial and administrative viable institution.
The party head should send a reference for the disqualification of a member directly to the CEC instead of the Speaker of the Assembly.
Suggestions from non-political parties must also be considered for election reforms.
To end the party or non-party based elections this should be made part of the constitution.
The EC must to fully authorized to issue a election schedule when ever required.
After the announcement of a election schedule the administrative control of the area should automatically to in the hands of the EC. And ban should be imposed for making new ID cards once the schedule has been announced.
The delegation told the CEC that PAT will participate in all the elections and also in Gilgit-Baltistan. They requested that either a Tractor, Motorcycle or Flag be given as an election symbol.
The CEC assured the PAT delegation that all their suggestions will be given due consideration and the complaint against the Railways minister will be dealt according to the law. He asked the PAT delegation to continue to assist the EC and keep sending in suggestions for the improvement in the working of the EC. He said the EC will consider any suggestion that is received from any political party of the country.