Minhaj Welfare Foundation Celebrates the Wedding Ceremony of 23 Couples
Reported by: Ali Akbar Alvi (Minhajian)
Click for Video Report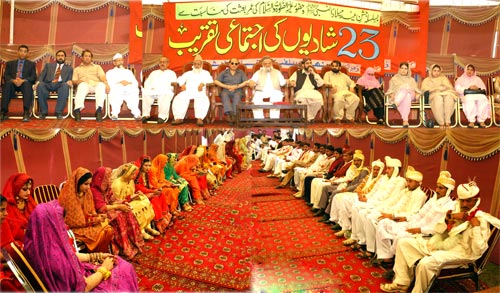 Minhaj Welfare Foundation is a multi-dimensional religious and cultural movement striving for promoting Islam's social and cultural values around the globe. Besides that, it is also helping the poor and the needy to come out of poverty and is unfolding new aspects of healthy life to them.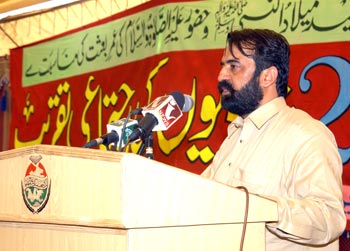 Minhaj Welfare Foundation provided an encouraging opportunity to the young guys and girls for getting married at very low cost. The function of collective marriages was celebrated in a huge gathering held at the Central Secretariat of MQI on the 6th of May 2007. 23 couples, benefiting from the opportunity, started their new lives. At the end of the function the Foundation arranged a big feast of Walima to entertain the guests who came to share the joys of young couples. What was interesting here was the gathering continued to echo with the slogans "long live long live, Tahir long live; the blossoming flower of Mustafa, Tahir-ul-Qadri".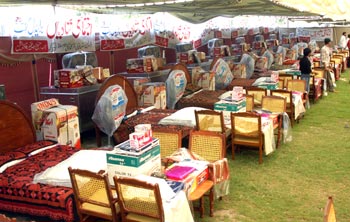 Aqil Malik, Nazim Minhaj Welfare Foundation, told the vast majority of people that the Foundation made a gift of almost one hundred thousand rupees to each couple. He also read out the names of the couples with their native towns/cities. The couples belonged to Lahore, Sawabi, Rawalpindi, Manga Mundi, Jhang, Naarung Mandi, Okara, Muzzafar Abad, Pak Pattan Sharif, Gojjar Khan, Deepalpur and Larkana.
Dr Raheeq Ahmad Abbasi presided over the ceremony. Mufti Abdul Qayyum Khan Hazarwi, a well known jurist and in charge Minhaj House of Islamic Jurisprudence, read the sermon of Nika for each young couple separately.
Aqil Malik informed the participants in his speech that the Foundation arranged the gift packages consisting of following things: a jewelry set, a dinner set, a sewing machine, a washing machine, a colour TV and DVD, an iron, a suit case, a double bed, a table and chairs, an oven, blankets, clothes and a watch for each bridegroom and many other things of everyday life.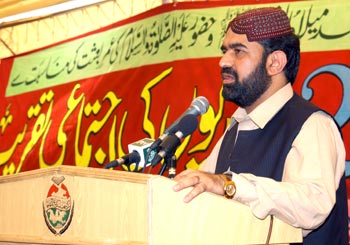 He further shed light on the services rendered by Minhaj Welfare Foundation. He told the audience that Minhaj Welfare Foundation is running almost five hundred and seventy two schools and one hundred and two dispensaries in Pakistan. He also said that Minhaj Welfare Foundation is always ready to help the suffering humanity whether they are the victims of earthquake or Tsunami. He said it had helped almost 1500 families in rehabilitation and established 13 tent towns where they had arranged the schooling of students, providing all the health facilities and other concerns of life. He said that they had spent 25 million rupees for the victims of earthquake.
Mohammad Aqil Malik expressed his gratitude to Sajid Mahmood Bhatti for his cooperation in arranging such a grand ceremony.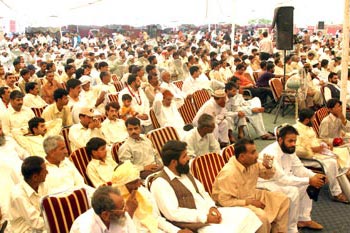 Dr Raheeq Ahmad Abbasi, Nazim-e-Aala Minhaj-ul-Quran International, underlined in his speech that helping the suffering humanity is an act of excellence in the Court of Allah Almighty and His Messenger and Beloved Mohammad (SAW). He said that he was speaking on behalf of Shaykh-ul-Islam, who always laid emphasis on human rights. He says offering prayers five times in day, paying Zakat, keeping fast in the Holy Month of Ramadan and performing Pilgrimage are all the rights of Allah but Islam also advocates the human rights. So Minhaj-ul-Quran is endeavouring to uplift the poor and bring them out of their miseries. He says Minhaj-ul-Quran wants to establish peace, harmony and tolerance in society and this is only possible when we comfort the poor people.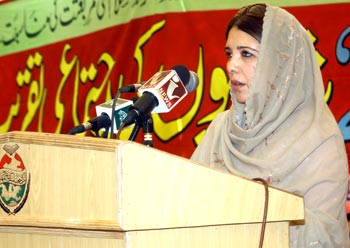 Dr Raheeq Ahmad Abbasi also told that the Foundation had arranged the marriage of 23 couples, a figure which corresponds with the history of Minhaj-ul-Quran International's celebration of Mawlid-un-Nabi (SAW) conferences: Minhaj-ul-Quran International has been celebrating the birthday of the Holy Prophet (SAW) for the last 23 years. He said that they had made the marriages of 275 couples throughout Pakistan and they were determined to continue that practice in the years to come. He prayed to Allah for His help and favours for the happy marriages of the poor daughters of the nation.
Dr Raheeq Ahmad Abbasi said the Foundation feels a sense of pride in helping the suffering humanity. Its only mission is to share joys with the poor and deprived people. He also said that they were very lucky to have Dr Tahir-ul-Qadri, leader of international repute, as their guide and leader.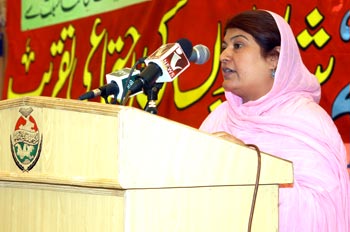 MNA, Robina Shahin Watto, the Chairperson of Amir Begum Welfare Trust, said in her speech that she would like to congratulate Dr Tahir-ul-Qadri for his endeavour of par excellence for providing an opportunity to the poor girls and boys to start a new life that would help them to complete their faith. The way he has been giving new hopes to our youth is really praiseworthy.
Shaista Bukhari, Director of Women Rights Association, expressed her great sense of spiritual bliss and happiness at being part of the ceremony. She said that it was a great service on the part of Dr Tahir-ul-Qadri that he has extended help to the poor families. She also prayed to Allah Almighty to help Dr Qadri in his noble cause and mission of serving human beings around the globe. She said that he had set an example to the religious scholars and they should also come forward and act in his fashion.
She also urged well-to-do people to step forward and join hands with Dr Tahir-ul-Qadri in his humanitarian cause and mission that he has started for the Muslims. Allama Miskeen Faiz-ur-Rahman Durrani, Brigadier Iqbal Ahmad, G M Malik, Ghulam Rabbani Taymoor, Ali Ghuzanfar Kararvi and many other central leaders of Minhaj-ul-Quran International expressed their thoughts and feelings on the occasion.