The first procession of the Representatives of Minhajians
Translated by: Ali Akbar Alvi (Minhajian)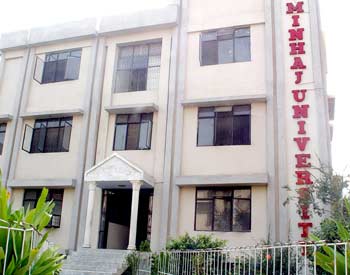 The first procession of the representatives of Minhajians was held at Sharia College on the 24th may 2007. Allama Shaykh-ul-Hadith presided over it. A well-known jurist of national repute and religious scholar, Abdul Qayyum Khan Hazaravi, Prof. Nawaz Zafar and Mian Muhammad Abbas also participated in it. In this procession the representatives of Minhajians from the session 1991 to 2006 participated.
The procession started with the recitation of the Holy Quran and Nasheed reading. After the recitation, Mian Abbas gave a short briefing on its agenda. He told, the total number of students who have the honour to earn degree from the Minhaj University, Lahore has reached 790. They are playing a very significant role to promote Islam within the country and round the globe. He also told that a vast majority of Minhajians render their valuable services at the central secretariat of Minhaj-ul-Quran International.
He told the representatives that the main object of this forum is to get in contact with the Minhajians who are somehow are the other are less active as compare to the other and busy in their worldly affairs.
He also told that it is obligatory upon us to dissolve their problems and help them in the time of test and trial on priority basis. He told that they would try to explore the causes of those grave problems which lead their students towards passiveness and indifference.
The participants gave their valuable suggestions and some of the important issues were discussed in detail. Mian Muhammad Abbas noted the suggestions with keen interest forward by the different representatives and show his will to cope with them soon. At the end Allama Shaykh-ul-Hadith Muhammad Mehraj-ul-Islam, Prof. Muhammad Nawaz Zafar and Mufti Abdul Qayyum Khan Hazarvi applauded the practice. They said that Minhajians are the heart and soul of the mission and do not want to see them alone at any step of their life.
The next procession will be held in the first week of June 2007.