PAT concerned at slow pace of extradition of Pakistanis from Yemen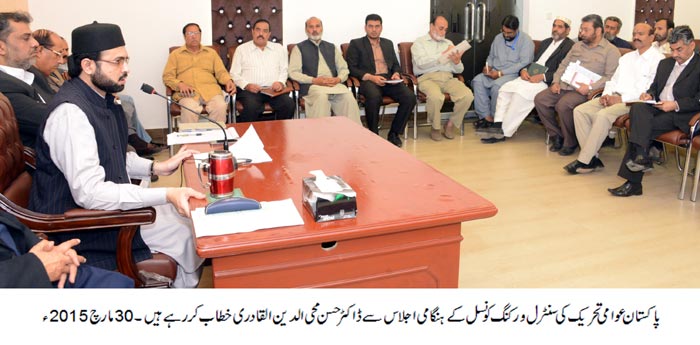 LAHORE: [30-03-15] The Central Working Committee of Pakistan Awami Tehreek held a emergency meeting here on Monday to discuss the process of evacuation of Pakistani families from war-hit Yemen. The committee slammed the government for its slow action and urged the government to use all options for their safe exit. The meeting expressed concern at the slow pace of extradition of Pakistanis from war-torn Yemen.
Addressing the meeting the President of the Supreme Council Dr. Hassan Mohyiuddin said that the government must ensure the safety of all the stranded Pakistanis and if any untoward incident occurred the prime minister will directly responsible. He demanded the government to give details of the number of Pakistanis that are stranded in Yemen.
The meeting expressed the rumors of the closure of the Pakistani consulate in Yemen at such a time when it was needed the most. The meeting also expressed its concern at the dubious LNG deal and said that if the government is not getting any kickbacks, commissions or is not involved in corruption than it should make the details of the deal public instantly.
The meeting prayed for the health of the chairman of PAT Dr. Tahirul Qadri and also prayed for his quick recovery. The meeting condemned the action of the Punjab CM for not forming an impartial Joint Investigation Team on the Model Town incident. The meeting vowed not to rest in peace until the culprits of the Model Town incident are given exemplary punishment and hanged.
The meeting also chalked out a plan for participation in the Local Bodies election in Khyber Pakhtoonkhawa. The meeting was of the view to seek the support of like-minded parties for the LB polls. The meeting lauded the Lahore High Court decision regarding the holding of party-based LB polls in the Lahore Cantonment.
The meeting expressed its concern at the fixation of prices of petroleum products and said that the prices of oil in the international market had fallen but the impact in Pakistan is not equal to what it should have been.
In a resolution passed in the meeting strongly condemned the false case on Chairman of the Sunni Ittehad Council Sahibzada Hamid Raza and demanded immediate withdrawal of the case. The meeting demanded that the government must keep its politics away from the National Action Plan and not take cover under it for political reasons. The meeting also expressed its concern at the increased power load shedding and Dr. Hassan said that the performance of the government will come out in the open in the hot summer months of June and July.