Dr Tahir-ul-Qadri welcomes sentencing of terrorists by military courts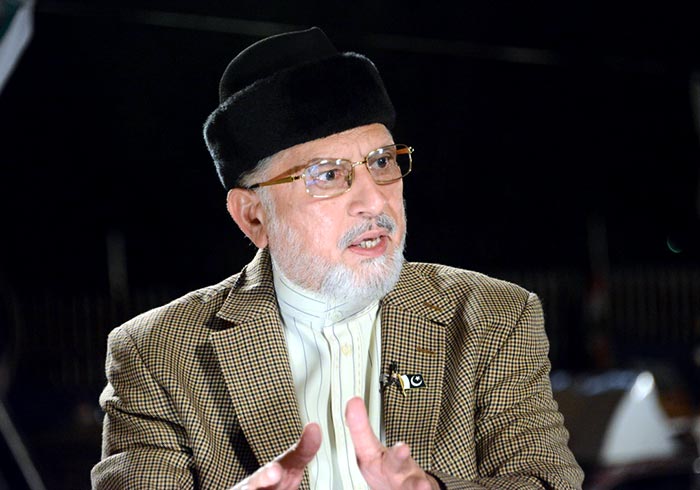 PAT chief Dr Muhammad Tahir-ul-Qadri has welcomed the first verdict of the military courts announcing capital punishment for the terrorists. He said that it has been three months since National Action Plan against terrorism was unveiled, adding that pace of implementation is unsatisfactory. He said that terrorists and their facilitators will benefit from the slow pace of cases. He said that the military courts should be activated in Punjab because major problem lies in this province.
Dr Tahir-ul-Qadri expressed these views while talking to his media adviser Noorullah Saddiqi on telephone from Canada yesterday. He said that equally potent is the challenge of economic terrorism, adding that an operation cleanup is necessary to uproot economic terrorism from the country. He said that those who plundered the national wealth will have to be brought to face justice to put the country back on track. He demanded that special courts should be set up on the pattern of military courts to punish the economic terrorists.
Dr Tahir-ul-Qadri said that the hundreds of corruption references prepared by National Accountability Bureau have been rotting in the cupboards of the NAB and the counts. He said that establishment of special courts is a must to arrive at decisions on these references as early as possible. He said that about 1.2 million cases are pending in the Lahore High Court and district courts in the province of Punjab only. He said that separate courts should be there to dispose of corruption cases and all economic cases including those of money laundering should be heard in these special courts.
The PAT chief said that next operation should be carried out against economic terrorism. He said that the best and easiest way of detecting corruption of bureaucrats and politicians is that their assets should be thoroughly scrutinized before joining public sector and after age of retirement from public life and the rate of asset accumulation will be enough to expose their culpability or otherwise. He said that he would present a complete plan of nabbing the economic terrorists on his return from abroad.