Who is responsible for postponement of Chinese President's visit? PAT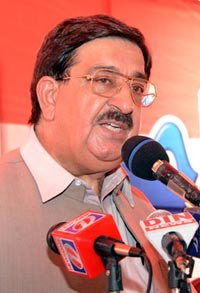 PAT Secretary General Khurram Nawaz Gandapur has asked as to who is responsible for postponement of the Chinese President's visit to Pakistan and consequent loss to the national economy and who will compensate for the losses so incurred?
The PAT Secretary General expressed these views while addressing the presidents and secretary generals of different PAT chapters in the party's central secretariat. He said that the government spokespersons particularly Information Minister Pervez Rashid did not tire of trumpeting the mantra that the sit-ins staged by PAT and PTI were responsible for postponement of the Chinese President's visit to Pakistan, which, according to him, caused huge financial loss to the country. He asked the Information Minister to come on TV now and tell the nation as to who is responsible for incalculable loss caused by the postponement of the visit of the Chinese President.
Khurram Nawaz Gandapur said that unfortunately, the present rulers did not take into account the diplomatic norms and exemplary relationships with the friendly countries for their political interests. He said that they have put their personal interests ahead of the country's long-term interests. On a question of issuance of Ordinance and constitution of the Judicial Commission to probe allegations of rigging, he said that the job of the Judicial Commission is to determine in 45 days that whether the mandate of the government is genuine or fake. He said that as long as the Commission holds its proceedings, the present government does not have any moral or legal authority for 45 days nor it should adopt any policy on national and international issues till such duration. He said that unless the Judicial Commission comes up with its verdict, the position of the present government is that of an accused.
Khurram Nawaz Gandapur said that it is interesting that on the one hand, the PML-N government is bent on proving the judicial commission on Model Town tragedy controversial and is reluctant to submit notification of its constitution to LHC and on the other hand, it has set up another judicial commission to investigate rigging. He said there is discrepancy in the sayings and actions of the present rulers.