PAT issues White Paper on corruption and crime in Lahore
80 pc of Lahore lacks clean drinking water, national wealth spent on a few roads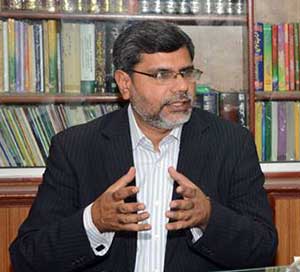 LAHORE: [14-04-15] The Pakistan Awami Tehreek Lahore has issued a White Paper on the declining law and order and increase in social problems in Lahore. The paper said that in the last seven years the PML-N has spent over Rs 700 billion on development projects but the irony of the fact is that even today the people of the Lahore lack basic facilities like transport, protection, justice and clean drinking water. White paper has issued by PAT Punjab president Basharat Jaspal and Lahore president Chaudhry Afzal Gujar.
The paper said that instead of spending on the welfare of the people the PML-N government has preferred to spend on Pink, Orange Metro services, building steel bridges and other such useless projects which have destroyed the natural beauty and environment of Provisional capital. The need of the people is free medicine, pure food, quick justice and protection from terrorism. The people of the 36 districts of Punjab are of the view that their share of development funds have been stolen and spent on Lahore alone, but even than over 80 per cent of the population of Lahore lack clean drinking water.
The paper says that the number one problem of provincial capital is the Law and Order issue and murder at the hands of robbers, dacoits is a normal thing and Lahore leads when it come to car and motorcycle jacking, kidnapping for ransom, and forcefully taking money from businessmen ,traders and shopkeepers. The Paper says that on an average over 15,000 dacoits take place every year in Lahore and the traders were deprived of over Rs 5 billion. It said despite tall claims of city police chief only 10 per cent of the looted money has been recovered. Lahore has over 45,000 policemen to its disposal but every year the number of heinous' crimes and robberies increases.
The white Paper says that Lahore has been divided into two portions, one the 'Posh' and the other the 'Low-lying' sections and in the last seven years the moral values in the city, which were once the highest in the area, are now equal to none.
The paper said that lack of local government elected representatives LGs converts into corruption hub and collection of revenue hit badly over Rs. One Billion disappears under the sectors of District Government, Town Committees and in the last seven years the CM has never felt the desire to explain where he spends the money collected from the poor people of the province. The paper said that even when an enquiry was ordered, nothing happened and the enquiry has yet to start which was ordered in 2010.
The PAT leaders said that now is the time and people should not vote for the plunderers and corrupt politicians otherwise all their dreams shall remain unfulfilled.