Establishment of Judicial Commission vindication of PAT's stance on rigging: Dr Tahir-ul-Qadri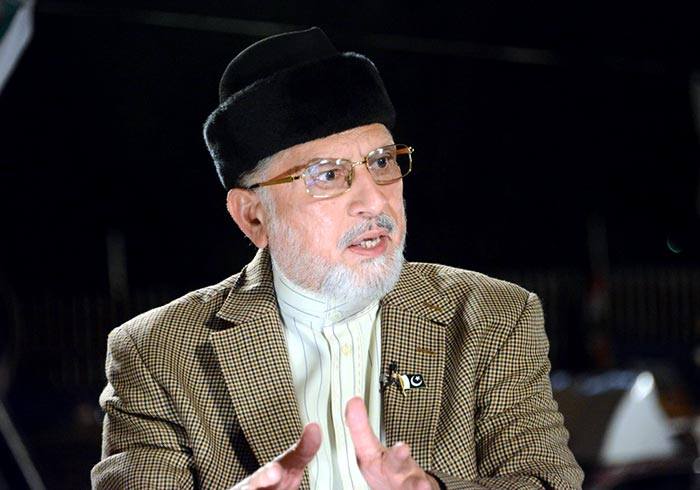 PAT chief Dr Muhammad Tahir-ul-Qadri has said that the Election Commission, which conducted general elections2013 was unconstitutionally composed and the government that came into being as a result of electoral exercise is also illegal. He said that the people want to get rid of the government which does not enjoy the mandate of the masses. He said that PAT has written a letter to the Judicial Commission probing the rigging about fraudulent elections, adding that there is a need to focus on the mother of the problems instead of being distracted by petty incidents.
Talking to the senior party leaders on phone yesterday, Dr Tahir-ul-Qadri said that those claiming not to do politics of 'containers' sealed off the whole of Punjab by placing containers to stop the peaceful PAT protest and forced people to stay locked inside their homes. He said that the hundreds of thousands of people living in the Model Town were the worst affectees as they were denied access to medicine, food, and water and the owners of containers were not been paid even a single penny. He said that people still remember rulers' container politics and oppression.
Dr Tahir-ul-Qadri said that the Election Commission, which presided over general elections 2013, was constituted in violation of Articles 213 and 218 of the Constitution, whereas elections were held without compliance with the SC verdict of June 8, 2012 and by ignoring the constitutional requirements. He said it explains why the whole electoral structure and the government that came into being as a consequence are not legitimate. He said that had all the political forces not got together against our struggle for establishment of independent and sovereign Election Commission, the nation would not have had to see this day.
Dr Qadri said that Parliamentary Election Reforms Committee is only wasting time because the present rulers will never let real and meaningful reforms be carried out because if the people get the constitutional right of franchise and express their free will through vote and their mandate gets protected by law, the status quo parties will not be able to stay alive and relevant. He said that it is important that the Judicial Commission also spells out a solid strategy for establishment of independent and sovereign Election Commission and closes all doors on rigging and that conduct of electoral process is rendered independent of the executive's intervention and influence.
Dr Tahir-ul-Qadri said that Pakistan Awami Tehreek is the only political party, which organized a long march to expose the flawed electoral system that revolves around money and influence and drew the attention of the whole nation to this important national matter. He said that PPP reneged on the agreement it signed with PAT with regard to bringing about reforms in electoral system and then all the political parties raised hue and cry about rigging in the elections. He said that the establishment of high-powered Judicial Commission to probe rigging is vindication of our point of view.