No injured worker of PAT appeared before JIT: PAT Spokesperson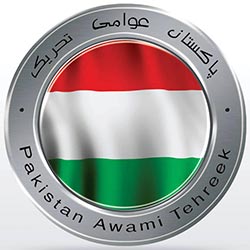 A spokesperson of Pakistan Awami Tehreek (PAT) has clarified that no injured worker of PAT has appeared before the Joint Investigation Team (JIT). He said that effort is being made to present someone by name of Waqas as the PAT worker, while an injured by the name of Miraj Din is a PAT worker but he did not appear before the JIT. He said only God knows who the police presented before the JIT as Miraj Din.
The spokesperson said that the JIT was established to give a clean-chit to the rulers, which has now resorted to devious tactics through police. He said that police is harassing our workers in their homes, threatening to lift them forcibly and implicate them in unknown cases. He said that PAT condemns this attitude and asks the IG Police to stop the police officers working under him from flouting law. He said that oppressive conduct of Punjab police has brought a bad name to the country in the world. He said if the police does not refrain from harassing and intimidating our workers, then PAT would be left with no option but to knock at the door of courts and a panel of lawyers has been given necessary instructions to make preparation in this regard.
The spokesperson further said that our stance of not appearing before JIT is principled as we do not expect any fairness from the JIT consisting of representatives of killer police. He said that the only mandate of JIT set by the Punjab Chief Minister is to give him clean chit in the Model Town case but this dream would never come true. He said that the Chief Minister is sitting on the report of judicial tribunal set up by him to probe the Model Town tragedy, adding that if he has no blot on his conscience, why does he not let the report be made public? He said that the families of 14 martyrs and 85 injured are determined and united for justice and PAT and its leadership would go to any limit to get justice.