No religion allows terrorism: German Scholar : Dr. Jochen Hippler visits Minhaj University Lahore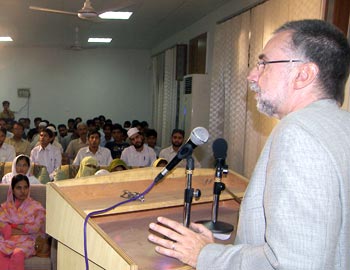 All religions of the world condemn terrorism and extremism and are in favour of peace and harmony. Thus those committing acts of terrorism in the name of religion are actually misguiding people and bringing their respective religion in disrepute. These views were expressed by Dr. Jochen Hippler, Professor of Political Science and International Relations in Germany, while delivering a guest lecture to the students of Political and Social Science Departments at the Minhaj University. The topic of his lecture was "Dialogue between Western and Muslim Societies". The Professor, who is currently on tour of Pakistan in connection with writing a book on Pakistan in German language, which will be first ever comprehensive book of its kind in that language, asked people to discourage all such elements who want to use fair names of their religions to justify their misguided actions. He said majority of people in all communities are nice, hospitable and peace-loving who want live in atmosphere of peace, mutual co-existence and harmony but small minority of terrorists is a major obstacle in their way. He stressed the need of more inter-faith dialogue and communication to remove misunderstandings and build bridges to defeat nefarious elements.
Secretary General Tehreek Minhaj-ul-Quran Dr Raheeq Abbasi, Dr Zahid Lodhi, Dean Faculty of Social Sciences, Dr Ali Akbar, Director Research, Brig (R ) Iqbal Ahmad, ex-Pro Vice Chancellor of Minhaj University and G.M. Malik, Deputy Registrar of the University also participated in the lecture. The lecture was followed by lively question & answer session.