Minhaj University Declared its First Ever B.A. Results 2007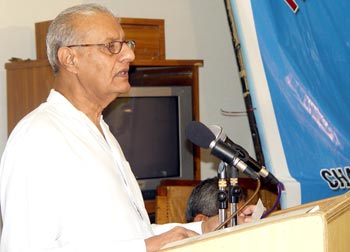 Minhaj University declared its first ever B.A. results 2007 after being chartered by the government of Punjab. A splendid ceremony took place at the old campus of the University in Model Town, which was presided over by the Vice Chancellor Dr Nazir Romani, while Provincial Education Minister Mr. Imran Masood was the chief guest at the occasion. Declaring the result Deputy Registrar G.M. Malik said that the pass percentage of students of B.A. stood at 67%. Rabia Haneef of Minhaj college for women, Hafiz Shakeel Ahmad of Minhaj College of Shariah and Modern Sciences and Zahara Iqbal of Minhaj college for women got first, second and third position respectively by scoring 578, 577 and 572 marks individually. The position holders were awarded 20, 15 and 10 thousand rupees respectively. He said that results were also available online at www.mul.edu.pk.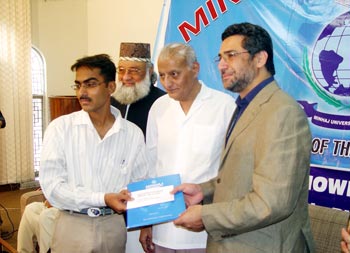 Addressing the gathering Dr Roamni lauded the role of Dr Tahir-ul-Qadri in the area of education. He said that after getting charter, Minhaj University started its degree classes and the results are proof of dedicated efforts made by the University teachers. He said that degree programs were started in science, commerce and social sciences.
Chief guest Provincial Minister Imran Masood said that services rendered by Dr Qadri are praiseworthy since educational institutions established by Dr Qadri were not only rendering services inside Pakistan but also outside across Europe and other parts of the world. He said that Minhaj University got charter on merit not on any favoritism. He also expressed his satisfaction over the fool-proof arrangements over examination system of the Minhaj University. He asked the Higher Education Minister to give funds to good educational institutions like Minhaj University.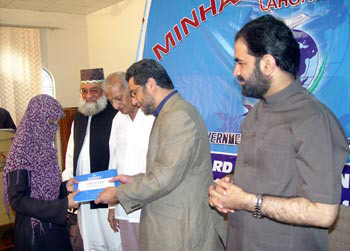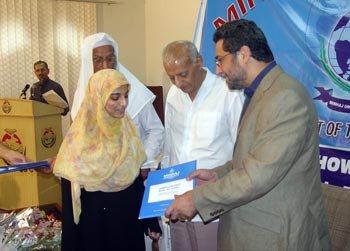 Speaking at the occasion Nazim-e-Ala Tehreek Minhaj-ul-Quran Dr Raheeq Abbasi said that Minhaj University is dream of Dr Qadri, which has come true. He said that Minhaj University enjoys rare distinction of blending modern and ancient sciences. Mr. Imran Masood distrubted prizes at the end of ceremony.