Minahj Ulama Council welcomes Imam-e-Kaba to Pakistan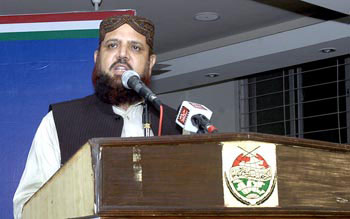 Minhaj-ul-Quran Ulama Council has welcomed Imam-e-Kaba Shaykh Dr Khalid Al-Ghamidi on his visit to Pakistan. The people of Pakistan are immensely pleased at the arrival of the respected guest. This was stated by Allama Farhat Hussain Shah, President of Minhaj-ul-Quran Ulama Council, while addressing the central office holders of the Council yesterday.
He said that Shaykh Khalid Al-Ghamidi is the Imam of the most revered place for the Muslims around the world and holds a unique position of reverence in the hearts of people of Pakistan. He said that the government and the organizers of the Imam's visit should have held a conference for elimination of sectarianism and terrorism and creation of unity among all schools of thought. They should have invited the scholars and representatives of all shades of opinion to this conference. He said that such a moot would have sent across a strong and powerful message that the Muslims remain united.
Allama Farhat Hussain Shah said that this opportunity of healthy interaction and meaningful dialogue was lost. He said that the organizers worked out the engagements of the revered Imam in such a manner that important and doable things were ignored and an impression was created as if he were Imam of one particular school of thought. He said that it has often been observed that the government cuts a sorry figure on such occasions and mismanages the things thereby losing an excellent opportunity of uniting the nation. He said that the Ministry of Religious Affairs is equally responsible for such state of affairs as it lacks the vision and insight. He said that it is for this reason that sectarianism and terrorism have brought incalculable harm to the body politic due to similar attitudes.