Peshawar deaths have plunged whole nation in grief: Faiz-ur-Rehman Durrani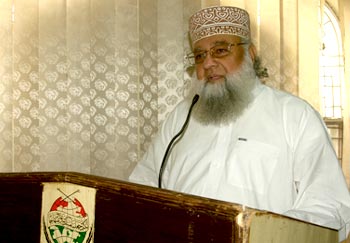 Praying for the departed souls of those who lost their lives in torrential rains and wind storm in Peshawar on Sunday, Amir-e-Tehreek (MQI) Sahibzada Faiz-ur-Rehman Durrani has said that the loss of precious 45 lives and damage done to property as a result of rainstorm has once again plunged the whole country in immense grief and sorrow. He said that it is a time when we pray for the affectees and make practical efforts for their rescue, relief and rehabilitation.
Faiz-ur-Rehman Durrani expressed these views while delivering monthly lecture on the Holy Quran under the banner of Minhaj-ul-Quran Ulama Council here in Model Town. Allama Farhat Hussain Shah, Allama Mir Asif Akbar, Allama Usman Sialvi, Allama Muhammad Hussain Azad, Allama Latif Madni, Allama Ijaz Malik, Allama Imdadullah Qadri and others were present on the occasion.
Faiz-ur-Rehman Durrani said that the Holy Prophet (SAW) said that Rajab is the month of Allah Almighty, and Shahban is my month while Ramzan is the month of the whole Muslim community. He said that the Muslims should seek maximum support from Allah Almighty in the blessed month of Miraaj. He said that the religious scholars say about this blessed month that Rajab is the name of a canal in paradise whose water is sweeter than honey, cooler than ice and whiter than colour of milk and he who keeps fast in Rajab will be entitled to drink this water. He said that Allah Almighty forgives the sins of His subjects and envelopes them in His blessings and mercy.
He quoted a Hadith wherein the Holy Prophet (SAW) said that he who keeps three fasts in the month of Rajab, the virtues of 9 years are recorded for him. He further cited another Hadith which says that Allah Almighty showers His blessings during four nights that include nights of Eid-ul-Azha, Eid-ul-Fitr, 15th of Shahban and the 1st of the month of Rajab. He underlined the need of the fact that we use the opportunity in the form of this blessed month and strength our weakening bond with Allah Almighty and His Apostle (SAW).