Itikaf City 2007: Second Day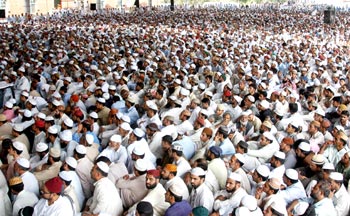 Reported by: M S Pakistani
Translated by: Ali Akbar Alvi (Minhajian)
1. After Fajr prayer Rana Muhammad Idrees, Nazim-e-Tarbiat, gave a briefing to all the teachers participating into Itikaf.
2. Minahj-ul-Quran Inetrnational due to a large number of participants in Itikaf, faced the problem of shortage of teachers, they had to get the services of Minhajians along with other people who have got good understanding of Din.
3. The training camps started at 11 A.M. and ended at 12: 30 P.M.
4. Before Zuhr prayer, all the problems in management were dissolved if there exists any. Minhaj-ul-Quran International had to face the problem of space as the Mutakifeen came in a large number beyond their expectations that is why they had to adjust sixty people instead of forty in one enclosure.
5. In the south lawn of Minhaj Mosque, cleans were spread for prayer for the first time, due to a large number of Mutakifeen.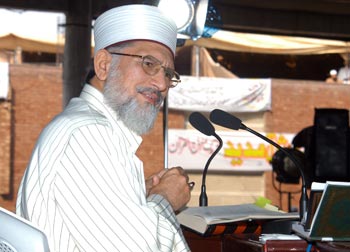 6. A large number of sweepers have been appointed who ensure cleanliness in the surroundings.
7. For the Mutakifeen who are occupying their place in LDA ground, hundreds of washrooms and a broad place for ablution have been set up on one side of the ground.
8. To facilitate the Mutakifeen the most, Minhaj-ul-Quran International has ensured cold water providing big blocks of ice quite freely.
9. To face any disastrous situation and to ensure the safety of people, the services of Minhaj Ambulance and Fire brigade have been got.
10. After Zuhr prayer, Dr. Raheeq Ahmad Abbassi delivered a lecture on the cemented relation between leader and his followers.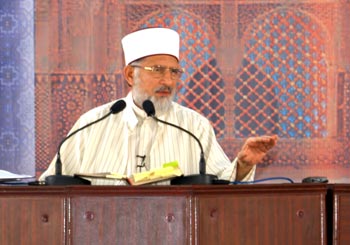 11. After Asr prayer, a famous jurist and scholar revered Abdul Qayyum Hazarvi gave lecture on different issues of Islamic Jurisprudence. Many people asked questions both in oral and written form, due to lack of time, he had not been able answer all the questions.
12. After Evening prayer, once again a large number of people flocked together to get place near Shaykh-ul-Islam and to catch his glimpse almost two hours before the fixed time.
13. For full coverage of Shaykh-ul-Islam's speech, Minhaj Productions has managed a big camera crane for the convenience of cameramen.
14. Iranian Television has also telecasted live Shaykh-ul-Islam's speech.
15. Shaykh-ul-Islam told the audience about the number of Durood Sharif recited in September. He told the people that the figures reached 29, 35 and 96,354.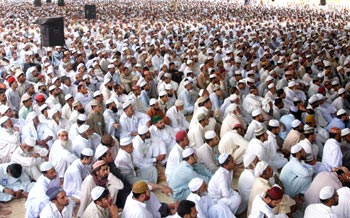 16. Muhammad Afzal Noushahi, read the naat of the Holy Prophet (SAW) before Shaykh-ul-Islam speech. Shaykh-ul-Islam appreciated his endeavors to promote naat round the globe. He said, he is the Nashid Artist who reads naat with our drawing any material benefits.
17. Shaykh-ul-Islam's speech started at 11 and ended at almost 2 A.M. He delivered his lecture on Imam Abdul Rehman Sullmi's Book entitled "Tabqaat usoofia"
18. During the speech of Dr. Tahir-ul-Qadri, Noshair Khan, an old member of Minhaj ul-Quran, broke down his heart and passed away at nearby hospital.
19. After the speech, Mutakifeen remained busy in individual Zikr and recitations till Sahri. Meanwhile they also offered their Tahajud prayer.