Whole system, not just few constituencies, based on rigging: Dr Tahir-ul-Qadri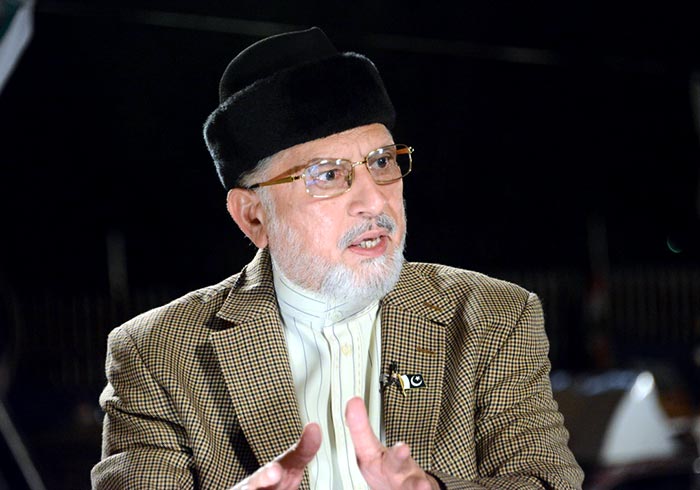 PAT chief Dr Muhammad Tahir-ul-Qadri has said that we staged a long march for eradication of electoral rigging in 2013 but then the political parties supporting status quo got together against us. He said that orders of re-polling in some of constituencies do not amount to any significant development, adding that the fact is that the whole system is the product of rigging. He said that the PAT workers drew the attention of masses and national institutions to defects of electoral system by rendering sacrifices but the present and past rulers opposed it simply because their survival lies in holding on to the obsolete and corrupt system.
Dr Tahir-ul-Qadri made these remarks while talking to the members of central media office on telephone from abroad here on Tuesday. He said that the present rulers have hindered the evolution of real and representative democracy in the country. He said that people are not being allowed to elect their representatives out of their free will. He said that the present government and Parliament came into being through unconstitutionally composed Election Commission, emphatically stating that the system protecting the rigging cannot eradicate it. He said that it is the present system of rigging, which has generated illegal and negative culture of musical chairs.
Dr Tahir-ul-Qadri said that we have written a letter to the Judicial Commission probing the instances of rigging requesting the commission to review the whole electoral system instead of probing some of the individual constituencies because the Election Commission, which conducted the General Elections 2013, was not formed in compliance with Articles 213 and 218 of the Constitution. He said that the doors of Parliament were opened for looters, tax evaders and thieves by suspending Article 62 and 63 during the scrutiny of candidates in an unannounced manner. He said that the rulers have not got a mandate from the people but snatched it from them. He said that the decision of Election Tribunal ordering re-polling in NA-125 should open the eyes of the masses. He further said that the illegally formed Election Commission bulldozed the decision of June 08, 2012 delivered by the apex court. He said that when the foundation is flawed, how can edifice constructed on it stand erect on it? He said that it is futile to expect from a government coming into existence through fake mandate to serve the masses.