JIT report was written well before constitution of JIT: Khurram Nawaz Gandapur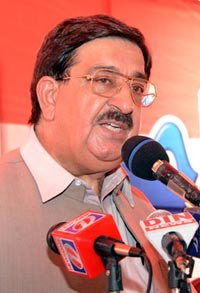 PAT Secretary General Khurram Nawaz Gandapur has said that the JIT, in its report, has given a 'clean-chit' to the Chief Minister and senior police officers accused in Model Town FIR. Talking to the media men in the central secretariat, he said that the JIT started working later while the report had already been scripted in advance. He said that PAT chief Dr Tahir-ul-Qadri, in a press conference a few months ago, placed the facts before the nation that a full-dress rehearsal had been carried out under the supervision of the former Law Minister in Patyala House in respect of compiling the JIT.
Khurram Nawaz Gandapur said that we have come to know through media that JIT has completed the report and submitted it to IG Police. He said that according to our information, the rulers have been absolved of their role in the Model Town massacre and disciplinary action has been proposed against some police constables.
The PAT Secretary General said that our stance of not appearing before JIT is based on principles, adding how those who have committed terrorism can assume the position of investigator in the same case? He asked how can JIT have any credibility or legal identity if those desirous of justice do not take part in its proceedings and reject it outrightly. He said that the report of Judicial Tribunal consisting of Justice Baqir Najfai had clearly pointed its finger at the killers, adding it explains why the rulers of Punjab are not allowing the publication of the said report. He said that we have worked out a strategy to get justice in the Model Town case and those who perpetrated terrorism on June 17 would not be able to escape justice easily. He said that the principal accused in the Model Town case are being rewarded with lucrative postings and one of such characters is Dr Toquir Shah who was appointed Ambassador to WTO.