Itikaf City 2007: Fifth Day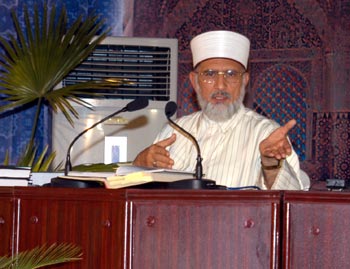 Reported by: M S Pakistani
Translated by: Ali Akbar Alvi (Minhajian)
The 5th wonderful and jubilant day of holy Itikaf gathering started with the same full enthusiasm by the supreme blessings of God and special favour of the holy Prophet (SAW). After Fajr prayer, the Muatakifeen continued to sit in their lines keeping themselves busy in Individual Zikr and tasbihaat till dawn prayer. The atmosphere appears to be more soothing and blissful than ever before. It seemed as if angels had come down to earth and busy to strengthen their relation with their Lord and seeking the glee of Him.
After Zuhr prayer, Qari Muhammad Saeed Raza Bughdadi delivered a lecture on Iraf-ul-Quran. In his lecture, he teaches the Muatakifeen the Quranic phonetics and recitation with proper accent. His book on Tajveed, Irfan-ul-Tajveed is also bringing a huge popularity for him. Minhaj-ul-Quran International has started a noble mission of Quran understanding and all minhajians are doing a lot and highly recommendable working this regard.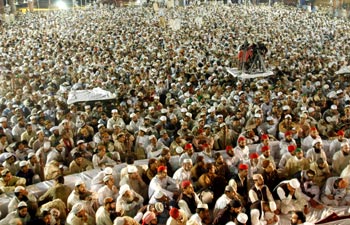 The most notable thing of the 5th day was the Aftar dinner of big figures from different walks of life with Shaykh-ul-Islam. Honourable guests started to arrive in Itikaf City after Asr prayer. Shaykh-ul-Islam came to have Aftar with the guests at 5:22. All the guests have been on their seats before his arrival. Shaykh-ul-Islam accorded a warm welcome to the guests, went to them and shook hand with them warmly and exchanged well wishes to one another. Here are the names of respected guests:
Aqae Raza Al-Latifi (Consulate General Iran)
Mian Afzal Hayyat (Ex Chief Minister of Punjab)
Dr. Farid Ahmad Paracha (Deputy Secretary General Jamaat-e-Islami)
Khawja Junaid (Ex-skipper of Pakistan Hockey Team)
Atta-ur-Rehamn (Ex -Test Cricketer)
Muhammad Tahir Khan (Country Manager Allied Bank)
Mushtaq Hussain Jafri
Syed Nobahar Shah (President of Shia Political Party)
Mian Aslam Iqbal (Minister for Tourism Punjab)
Chaudhry Ijaz (Minister of National Assembly)
Babar Mehmood (President Anjaman Tajran Khidmat Group Hall Road. )
Mian Muhammad Saleem (Senior Vice Chairman Tehreek-e-Istiqlal)
Ideeb Javidani (Chairman Private Schools Management)
Khadim Hussain Qaissar Adocate (Deputy Advocate General Punjab)
Dr. Awais Farooqi (President Focus Pakistan)
Zafar Iqbal Bhatti (Additional Session Judge)
Pervaiz Iqbal Gondal (Member Punjab Bar Council)
Faisal Nadim Baig (son of famous film star Nadeem)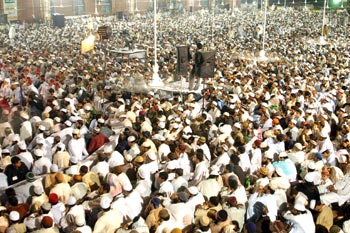 Besides them, many big figures from different walk of life also participated. The top leadership of Minhaj-ul-Quran International was also preset on the eve. Among them were Dr. Raheeq Ahmad Abbassi, Naib Nazim-e-Aala, Shaykh Zahid Fayyaz, Secretary General Pakistan Awami Tehreek, Anwar Akhtar Advocate, Nazim Foreign Affairs G M Malik, Nazim Media Shahid Mehmood and other central leaders of the movement.
Khawja Junnaid also took the life membership of Minhaj-ul-Quran International before media. Geo Television was telecasting live the event. Shaykh-ul-Islam congratulated him for joining Minhaj-ul-Quran International and becoming the part of the mission of Aqa (SAW). After the Aftar Dinner; all the guests offered their Evening prayer in the company of Shaykh-ul-Islam.
After Evening prayer, Dr. Raheeq Ahmad Abassi led the guests to the courtyard of the mosque on the command of Shaykh-ul-Islam. Before thousands of Muatakifeen, Khawja Junaid announced his joining Minhaj-ul-Quran International. He said, he is extremely happy to become the member of Minhaj-ul-Quran International. He said, he loves Shaykh-ul-Islam because he is the true lover of the Holy Prophet (SAW). He said there is a tough match between the forces of evil and goodness; he congratulated the Muatakifeen for becoming the part of the forces of goodness. He expressed his hope and belief that at last, the latter would be the ultimate winner. Mian Afzal Hayyat, the ex- C M of Punjab also got life membership of Minhaj-ul-Quran International.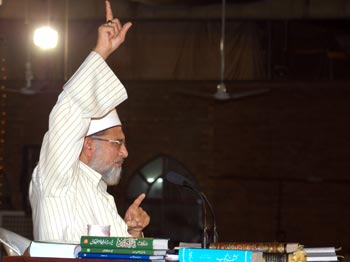 Dr. Raheeq Ahmad Abbassi thanked Khawja Junaid and Afazal Hayyat for joining the mission of the Aqa (SAW), presented gifts of Irfan-ul-Quran (translation done by Shaykh-ul-Islam) and saw them off.
Before Shaykh-ul-Islam's speech, a resolution was forward for Mawlid Conference 2008. All the muatakifen took part in it and cast their vote. At last, it was decided that in 2008, Minhaj-ul-Quran International would hold Mawlid Confernces in Rawalpindi, Faisalabad Lahore and Karachi instead of holding only one big conference as last years Minhaj-ul-Quran International had to face space problem due to large number of attendants. Thousands of people had to go back because Iqbal Park, Minar-e-Paksiatn had already been filled when they reached the venue. Shaykh-ul-Islam will chair in Lahore and Hassan and Hussain Mohy ud Din Qadri would represent Shaykh-ul-Islam in other cities. Shaykh-ul-Islam delivered a short speech after that Mehfil-e-Qir'rat started and ended early in the morning before Sahri.