Rigged assemblies undermining democracy, people & country: Speakers address PAT seminar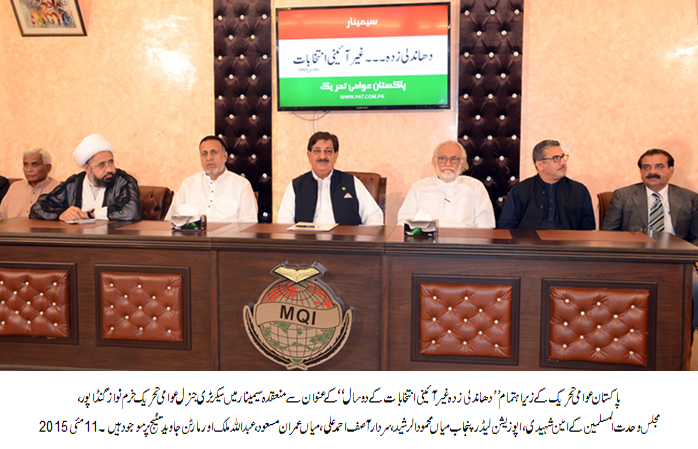 On the completion of two years since the present assemblies were inaugurated, Pakistan Awami Tehreek (PAT) organized a seminar on the title of 'rigged and unconstitutional elections' here at the party secretariat. The event attracted a broad-based participation from the leading political parties and a cross-section of political and intellectual opinion.
Addressing the seminar, the speakers were unanimous in their opinion that the legislatures that came into being as a result of massive rigging in elections are undermining the country, people and democracy. They said that the eyes of the whole nation are fixated on the Judicial Commission probing rigging charges and appealed that the Commission should give such a verdict on the case that closes all doors on the rigging and is instrumental in putting democracy back on track. PAT chief Dr Tahir-ul-Qadri and martyred workers of the party were paid glowing tributes owing to their struggle for peaceful change in the system through a resolution adopted at the seminar.
PAT Secretary General Khurram Nawaz Gandapur was the host of the seminar, whereas distinguished speakers who spoke on the occasion were opposition leader in Punjab Assembly Mian Mahmood-ur-Rasheed, MWM Secretary General Allama Amin Shaheedi, former federal minister for foreign affairs Sardar Aseff Ahmad Ali, senior leader of Jamat-i-Islami Dr Farid Paracha, provincial secretary information of PML-Q Mian Imran Masood, lawyer Abdur Rashid Advocate, Sunni Ittehad Council leader Mufti Haseeb, minority leader Martin Javed, Syed Noubahar Shah, Dr Ahsan Mahmood, civil society activist Abdullah Malik and Sohail Ahmad Raza. Jawad Hamid conducted the proceedings of the seminar.
In his welcome speech, Khurram Nawaz Gandapur said that people's votes, assemblies and the whole system have been turned into a joke due to non-implementation on Articles 62 and 63 of the Constitution. He said that in addition to giving verdict on rigging charges, the Judicial Commission should prescribe exemplary punishments for tax evaders, thieves and fake degree holders. He said that the cases against such elements should be decided promptly. He said that 14 of our workers were martyred and 85 of them were injured for challenging the status quo and system of oppression. He said that draconian actions of the government cannot break our resolve to continue to struggle against the oppressive and corrupt system.
Speaking on the occasion, senior PTI leader Mian Mahmood-ur-Rasheed said that his party would take to the streets along with PAT if need be against the rigged system of elections. He said that the caretaker set up was part of the grand rigging design, adding otherwise there would not have announcements to hold elections within 45 days. He said that caretaker Chief Minister of Punjab Najam Sethi helped the present ruling party to look for winning horses. He said that we waged our struggle within limits of law and constitution. Otherwise the government would not have stayed in power beyond two months as a result of protest movement. He asked what kind of democracy and justice system it is that a senior lawyer like Hamid Khan and PTI Chairman Imran Khan are going from pillar to post to get justice. He paid rich tributes to the PAT workers for peaceful struggle for change in the system and said that the killers of the innocent people in Model Town will not be able to get away with murder.

Giving his talk in the seminar, MWM Secretary General Allama Amin Shaheedi said that it is not just Election Commission but every institution of the country remains bogged down in corruption and rigging. He said how far one can have the system imposed on the people when it cannot fulfill basic necessities of people. He said that people are yearning for jobs, education, medical facilities, and an end to poverty but the system is unable to address their demands. He said that justice is non-existent in the country; Police stations are bought; people's rights are usurped and there is a dearth of basic facilities for the people, adding how long can one continue to pin blame on the Election Commission in such a scenario? He said that the whole nation would have to come out on the roads to eliminate this system of oppression. He said that corruption has eaten into vitals of state and society and a few hundred families have held the whole country hostage.
Former Minister for foreign affairs Sardar Aseff Ahmad Ali said that those who struggled for establishment of Pakistan and gave sacrifices for this lofty objective are facing the hard times today. He said that Christian speaker of Punjab Assembly Khan Sangha gave his casting vote in favour of Pakistan and we are burning Christians in Gojra, Joseph Colony, and Kot Radha Kishan. He said that at least he did not have the courage to face the Christian community. He said that the present system has become obsolete and there is a need to revise the Constitution and revamp the system. He said that if we have to stay alive as a nation, we need to seek guidance from the Last Sermon of the Holy Prophet (SAW) and the presidential address of the Quaid-e-Azam that he delivered on August 11. He said that no change is possible in this system which can be so twisted as to declare winner as losers and vice versa. He said that the educated youth is wandering on the roads in search of jobs and children are not getting education.
Jamat-i-Islami leader Dr Farid Ahmad Paracha said in his speech that survival of Pakistan lies in elections and democracy but added in the same breath that the time to remedy the ills of both has arrived. He said that the fundamental difference between democracies of Pakistan and India is the Election Commission, while the fact remains that the Indian society is plagued by the same set of ills which are hallmark of our society. He said that the Indian Election Commission is truly independent, sovereign, impartial and powerful and that is why the elections conducted by it are above board asking why can we not set up such an Election Commission? He said that corruption and mafias are the natural winners in our electoral system. He said that the present version of democracy has made Pakistan indebted to the tune of $70 billion and each citizen to the tune of Rs. 80,000. He asked all the political parties to wage a joint struggle against the rigged electoral system.
Senior legal expert Abdur Rasheed Qureshi said in his views that Mohtarma Fatima Jinnah was defeated through rigging. He said that the present assemblies are fake and consequently the government coming into being does not legitimate mandate at the same time. He said that a caretaker government should be installed for one year with an agenda to cleanse the polity of corruption.
Dr Hassan said that if anyone has shed his blood and sweat for change in the system after 1947, these are the leaders and workers of PAT. He said that the struggle of PAT would be chronicled in golden letters in annals of the country's history. He said that by eliminating the condition of graduation, the assemblies gave the message that there is no room for educated people in their corridors. Syed Noubahar Shah also spoke on the occasion.