Punjab security should be handed over to Rangers during Ramzan: PAT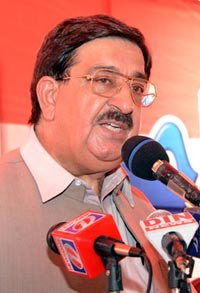 An important meeting of PAT was held in the central secretariat with Secretary General Khurram Nawaz Gandapur in the chair. The meeting demanded that the holy month of Ramzan should be exempted from load-shedding and the security of the Punjab province should be handed over to Rangers as reliance on police will be a grave mistake. The meeting dubbed the Ramzan package of Rs. 3.5 billion and model bazar project announced by the Punjab government as a traditional gimmick and futile exercise and demanded of the government to control artificial price hike in the market.
The meeting was of the view that the Chief Minister Punjab spends a major portion of package on his personal advertisement every year, which is un-called for and he should stay away from this practice. The meeting was attended by Bashrat Aziz Jaspal, Mushtaq Nonari Advocate, Chaudhry Mazhar, Khan Abdul Qayuum Khan, Raja Zahid and Raja Nadim.
Speaking on the occasion, Khurram Nawaz Gandapur said that the past experience shows that a major portion of the package is spent as part of administrative expenditure and it is staff of TMAs more than the people who benefit from such packages. He said that people of low-income groups remain deprived of the relief and all the efforts of the Chief Minister are confined to the statements only. He said that the hoarders have now created a shortage of edibles and other necessary items according to a plan. The supply of sugar has been curtailed and prices of fruits and vegetables have been doubled. He said that the present rulers have been knocked out by the illegal profiteers ahead of the advent of the holy month.
Khurram Nawaz Gandapur demanded of the government to make sure that recent hike in prices of edibles is withdrawn forthwith. He said that the rulers who own sugar mills should explain why sugar is short in market despite being surplus in production.
Bashrat Jaspal severely criticized the 25% cut in the subsidy announced by the federal government for utility stores. He said that rulers have money for mega infrastructure projects but no money for provision of relief to the masses. He asked the federal government to increase funds for utility stores and ensure the supply of all items.
The meeting also expressed its extreme concern on the reports regarding sale of meat of dead and 'harm' animals and demanded that all those people involved in such illegal business should be apprehended and meted out exemplary punishment.