Karachi, a city of lights, turned into city of darkness: Minhaj-ul-Quran Ulama Council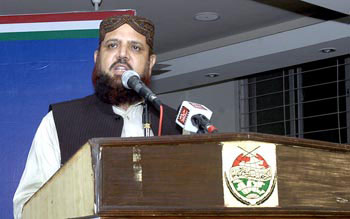 An emergency meeting of executive body of Minhaj-ul-Quran Ulama Council was held here at the central secretariat to ponder over the Karachi situation with Allama Farhat Hussain Shah in the chair.
Addressing the meeting, Allama Farhat Hussain Shah said that Karachi, which was once known as the city of lights, has plunged into darkness, sobbing and tears once again. He said that those who took lives of the innocent people are destined to go to hell, adding that those who targeted peaceful and highly educated Ismaili community did not deserve to be called humans. He said that as Karachi suffered a massacre, the federal and provincial governments were least ashamed. He said that the Prime Minister was indiscreet at the time of Peshwar tragedy when he laughed during the APC and now he was more interested in food than sharing the grief and sorrow of those who lost their near and dear ones in the incident. He said that this conduct of the rulers shows lack of moral propriety. He said that the terrorists tore the peace of Karachi into pieces but the federal and provincial rulers are so stubborn that they are not ready to accept their incompetence and resign from their positions.
Allama Muhammad Hussain Azad, Allama Imdadullah Qadri, Allama Mir Asif Akbar, Allama Usman Sialvi, Allama Mumtaz Saddiqi, Allama Latif Madni and others were present on the occasion.
Allama Farhat Hussain Shah said that it is a matter of concern for the government that the killers commit an incident of terrorism in the provincial metropolis and easily melt away in the city. He said that this heart-rending incident has exposed the country to new security challenges at external and internal front. He said that the government has failed to provide security to the people, adding that the state of law and order in the country in general and Karachi in particular is extremely poor. He said that hundreds of people have lost their lives in incidents of target killing. He said that neither have terrorists been arrested nor any punishment handed down to them. He said that it appears there is no one to take those to task who play havoc with people's lives.
Allama Farhat Hussain Shah urged the religious scholars to come forward and play their role in promoting sectarian harmony, unity and peace. He said that it is high time that religious scholars belonging to all schools of thought got together by rising above their narrow and petty differences and recommended steps for promotion of harmony, love, tolerance and moderation. He said that Minhaj ul Quran Ulama Council shares the grief of the bereaved families and express its heartfelt condolences to them. He said that it is unfortunate that the rulers go through the motion of hectic activity after the gruesome incidents of terrorism take place. He said that all elements of national opinion would have to put their heads together and do everything possible for restoration of peace in the country in general and Karachi in particular.