Central Executive Council of MQI meets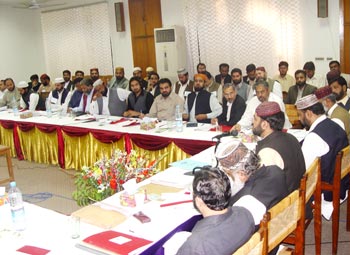 Reported by: MS Pakistani
Translated by: Amanat Ali Chaudhry
The meeting of Central Executive Council of Minhaj-ul-Quran International, presided over by Nazim-e-Ala Dr Raheeq Ahmad Abbasi, was held on November 18, 2007 at the Central Secretariat. It was attended by provincial representatives of Minhaj-ul-Quran International and office bearers from across the country. The central leaders of MQI who participated in the meeting included Central Amir-e-Tehreek Miskin Faiz-ur-Rahman Durrani, Naib Nazim-e-Ala Sheikh Zahid Fayyaz, Director Foreign Affairs G.M. Malik, Amir-e-Punjab Ahmad Nawaz Anjum, Nazim Youth Sajid Mahmood Bhatti, Director Media Dr Shahid Mahmood, Secretary General Pakistan Awami Tehreek Anwar Akhtar Advocate, Nazim Secretariat Abdul Wahid Butt, Nazim Dawat Rana Muhammad Idrees, Nazima Minhaj-ul-Quran Woman League Farah Naz etc.
The proceedings were started with the recitation from the Holy Quran followed by Naat. Afterwards, Nazim-e-Ala Dr Raheeq Ahmad Abbasi presented an annual performance report of various directorates and departments of Central Secretariat and the chapters of MQI inside as well as outside Pakistan. The House discussed and reviewed the various facets of the report and gave its viewpoint. With the consensus opinion of the House, planning and targets of Pakistan Awami Tehreek and MQI for next year were fixed. The House also approved a well coordinated course of action aimed at achieving the targets set for 'dawa' work of Tehreek.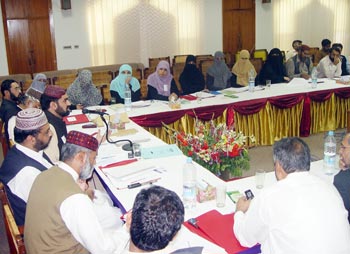 In addition to the above-mentioned, the prevalent situation of the country especially the upcoming elections also came under discussion. Proposals were also sought from the participants regarding the strategy of PAT for the elections. A meeting of General Council of Pakistan Awami Tehreek has also been convened on November 25, 2007 with a view to formulating PAT's course of action for the elections in 2008.
During the concluding session, resolutions moved by Nazim-e-Ala Dr Raheeq Ahmad Abbasi demanded of the government to do away with sate of emergency forthwith; restore the constitution and fundamental rights; remove the curbs placed upon media and freedom of expression in the country. The House also asked media to play its full role for the elimination of extremism and terrorism in the country. Grave concerns were expressed over the arrests and torture on journalists, lawyers, political activists and members of civil society with the demand that they be freed immediately from jails. The government was also asked to find an immediate solution to the problems of unemployment and price hike, which has pulverized the common people.
The meeting concluded on the special prayer of Miskin Faiz-ur-Rahman Durrani followed by dinner for the participants.