PAT holds protest against JIT report in front of Punjab Assembly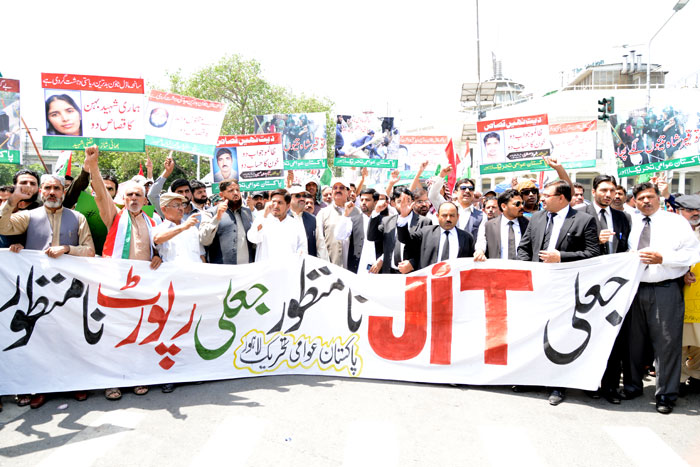 The hundreds of PAT workers gathered in front of the Punjab Assembly today and lodged a strong protest over the fake JIT report on the Model Town killings. The demonstration was led by PAT Secretary General Khurram Nawaz Gandapur. The workers chanted slogans decrying JIT for producing a fake and highly questionable report.
The demonstrators demanded that if there is no blot on the conscience of the rulers of Punjab, they should constitute an impartial JIT in consultation with the families of martyrs. Deputy Opposition leader in Punjab Assembly Subtain Khan, and opposition MPAs Mian Aslam Iqbal and Muraad Raas expressed their solidarity with the PAT workers and assured of their cooperation in seeking justice for the Model Town victims.
While speaking on the occasion, Subtain Khan said that the opposition members in the Punjab Assembly took up the one-sided, unfair and oppressive JIT report during the session and lodged strong protest over the murder of justice. He said that we walked out of the assembly as a mark of protest, adding that we would continue to play our parliamentary role till achievement of justice for martyrs of Model Town tragedy. He said that a great brutality was committed in Model Town, which does not have any other parallel in any democratic society.
PAT holds a demonstration in front of Punjab Assembly to protest JIT report. #MilitaryCourts4ModelTownCase pic.twitter.com/bpC5WlR33l

— PAT (@PATofficialPK) May 22, 2015
Khurram Nawaz Gandapur strongly condemned the provocative attitude of the police officials deputed on the security of the Punjab Assembly. He said that suspicious people can be seen around the central secretariat of PAT and the touts of Punjab police again want to create a situation similar to Model Town. He said that he wanted to forewarn the Punjab Chief Minister about this and ask him to rein in the people deputed on our 'supervision'. He said that PAT would avenge the blood of innocent people through legal means in every way possible way and make sure that the killers of innocent civilians go to gallows for their crimes.
Sheikh Zahid Fayyaz, Basharat Jaspal, Fayyaz Warraich, Raja Zahid, Mazhar Alvi, Hafiz Ghulam Farid, Irfan Yousaf, Raja Nadeem and other Pat leaders were present on the occasion.