Norwegian delegation of Global Peace & Security Centre visits MQI Secretariat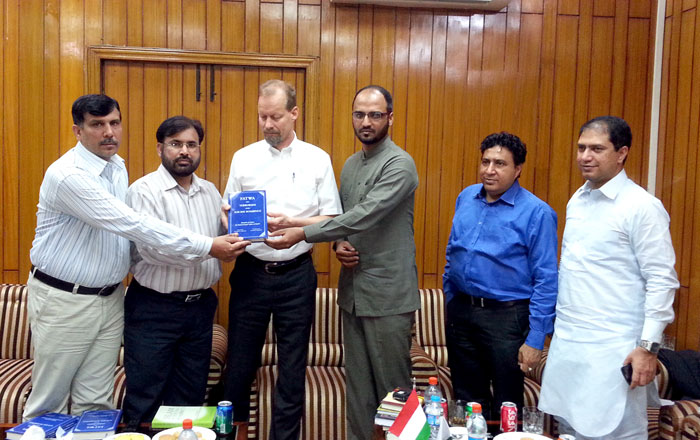 A delegation of Norwegian Global Peace and Security Centre visited the central secretariat of MQI on the invitation of Directorate of Interfaith Relations. The visiting delegation consisted of Director Arnay Sewers, James Jones and Rizwan Ali, operational manager NCA Islamabad. The delegation held a meeting with Sohail Ahmad Raza, Rana Farooq, Shahzad Rasool, Sheikh Aftab and Tanvir Hamayon. Matters of mutual interest came under discussion during the meeting. The delegation also visited various departments and directorate of the MQI Secretariat. Sohail Ahmad Raza gave a comprehensive introduction about various departments, their functioning and threw light on the global services and contribution of MQI.
Rana Muhammad Farooq, Director Research FMRI, apprised the members of the delegation about technical, scholarly and research aspects of the peace curricula which has been designed by FMRI under the direct supervision and guidance of Dr Muhammad Tahir-ul-Qadri. He threw light on various aspects of curricula to be taught to students in different stages in addition to informing them about the framework evolved to implement the peace project. He also answered questions of the delegates on the occasion. The delegation appreciated the peace project of MQI.
Speaking on the occasion, the Director of Global Peace and Security Centre said that his organization has always been appreciative of the services and contributions rendered by MQI under the leadership of Dr Tahir-ul-Qadri for promotion of peace, tolerance, interfaith dialogue and harmony in the world. He said that MQI struggle will prove to be a milestone for establishment of peace in the world. He said that Dr Qadri is known as Ambassador of Peace in the world and his services for peace are held in the highest esteem, adding that his organization also pays him rich tribute over his contributions.
The delegation was shown a documentary on the broad range of services and contributions being rendered by MQI for projection of peace in the world. He also expressed condolences on behalf of the MQI and PAT leadership on the death of Norwegian Ambassador in a helicopter crash in Naltar. He said that the whole Pakistani nation shares this grief. He told the delegation that Dr Tahir-ul-Qadri has written a letter to the government of Norway to express his condolences over the death of its Ambassador. Sohail Raza also gifted books and CDs of lectures of Dr Tahir-ul-Qadri to the delegates.