Dr Tahir-ul-Qadri to address important press conference today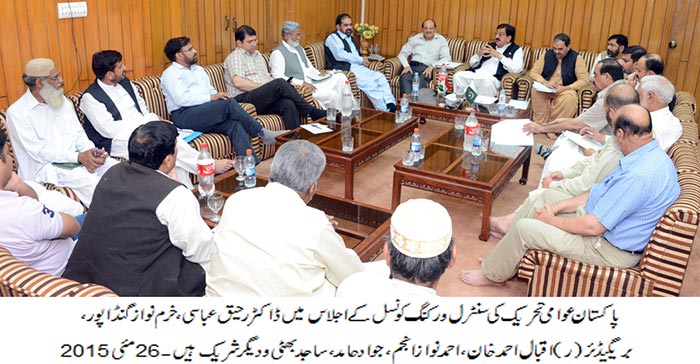 Addressing an emergency meeting of PAT Central Working Council, PAT President Dr Raheeq Abbasi has said that the country is fast moving towards a situation of civil war due to dynastic political order. He said that calling in of Rangers in Sialkot and Lahore for maintenance of law and order represents the failure and incompetence of the Punjab government. He said that if the patriotic people of Pakistan, civil society and the educated youth did not stop the way of system of oppression, this fire of killings and violence will engulf every household. He said that the rulers are more interested in stuffing in their foreign coffers instead of working for welfare of the masses. He said that the so-called democratic rulers are responsible for Model Town and Daska tragedies and violence on journalists in Karachi.
PAT Secretary General Khurram Nawaz Gandapur, Sheikh Zahid Fayyaz, Ahmad Nawaz Anjum, Brig. (r) Iqbal Ahmad Khan, Rana Fayyaz, Farah Naz, Jawad Hamid, and Sajid Bhatti were also present on the occasion. The meeting condemned the Daska tragedy and violence on journalists in Karachi and offered Fateh for the departed souls.
Dr Raheeq Abbasi told the meeting that PAT chief Dr Tahir-ul-Qadri will address an important press conference today (May 27) at 5:30 pm in which he would announce his next course of action. The participants of the meeting expressed their satisfaction on the demonstrations held to protest the fake JIT report and thanked media for its unstinted support. He said that the destination of the JIT report is dustbin as it is devoid of truth and credibility and that of killers is the death cell.
Khurram Nawaz Gandapur said on the occasion that Model Town and Daska tragedies are not individual incidents; rather they are reflection of the mindset of rulers and police. He said that the FIR in Model Town case was registered against the oppressed and in the same way the police registered FIR against the slain lawyer in the Daska incident. He said that SHO Daska has a criminal background who was implicated in a number of cases including a murder of a citizen, adding that the responsibility of the Daska tragedy falls squarely on the Punjab CM, IG police and DPO because they posted such a criminal despite his background. He said that the present power drunk rulers have turned the institution of police which is responsible for security of people into the greatest threat to life and property of citizens and law and order in the province. He said that the Punjab CM used Rs. 600 billion from the provincial exchequer in the name of changing the Thana culture, which has resulted in Model Town and Daska tragedies before the nation.