Foundation of Martyrs' Monument laid in Lahore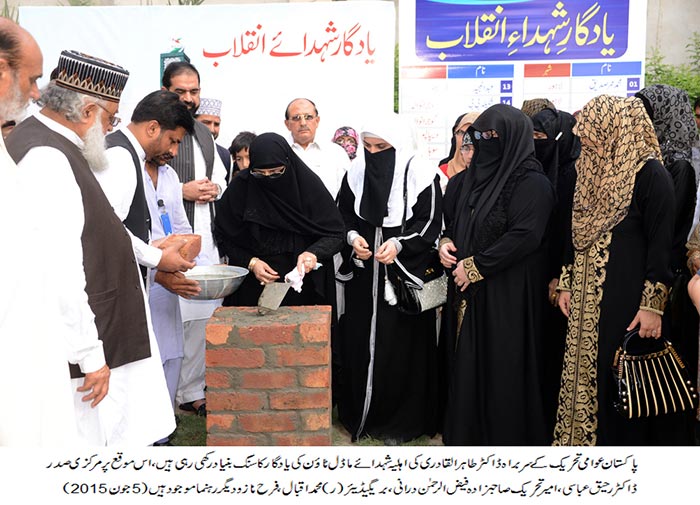 Addressing the ceremony held to lay the foundation-stone of Monument of the martyrs of Model Town tragedy and revolution march, the wife of Dr Tahir-ul-Qadri said that the JIT has revived our wounds by giving a clean-chit to the killers. She said that we have a commitment with the families of martyrs that we will continue to struggle for dispensation of justice till the last breath of our lives and will never be found wanting in our resolve in this regard. She said that we pay homage to patience, steadfastness, courage and perseverance of the families of martyrs. She said that it is the sacred blood of martyrs, which would not go in vain.
The foundation-stone of the Monument was laid in the central secretariat of PAT and MQI. Senior leaders including Dr Raheeq Ahmad Abbasi, Sahibzada Faiz-ur-Rehman Durrani, Brig. (r) Iqbal, Farah Naz, Jawad Hamid, Raja Zahid, and Hafiz Ghulam Farid attended the ceremony. Luncheon was hosted in the honour of the families of martyrs and the injured on the occasion. The wife of Dr Tahir-ul-Qadri and the families of martyrs and the injured laid the foundation-stone together. A special prayer was made for the departed souls on the occasion. At this, the tears welled up in the eyes of the participants of the ceremony.
The wife of Dr Tahir-ul-Qadri said that Nimrud and Pharaoh also resorted to mass-killings in order to perpetuate their power but could not save themselves from accountability. She said that the coffers of the rulers do not have as much money as can buy the conscience of the determined and courageous workers of Dr Tahir-ul-Qadri. She said that Model Town tragedy is a painful incident for the whole world. She said that the rulers blackened their faces by shedding blood of innocent people on June 17, which will not be washed till the Day of Judgment. She said that the Police committed the worst act of terrorism by mass-killing people who they had taken an oath to protect. She said that anti-terrorism courts are handing down sentences to the PAT workers on the basis of fake evidence submitted by the killer police, which is deplorable.
The families of martyrs whose families attended the ceremony included Shaheed Umar Siddique, Tanzeela Amjad, Shazia Murtaza, Muhammad Iqbal, Asim Hussain, Ghulam Rasool, Hakim Safdar Hussain, Muhammad Rizwan, Hafiz Khawar Mahmood, Rafiullah, Dr Muhammad Ilyas, Abdul Majeed, Saifullah Chatha, Rafiullah Niazi, Gulfam and Shaheed Muhammad Asif.